The Pros and Cons of Concrete Flooring
For many years, people have used concrete flooring in places like basements and garages. Concrete is becoming popular for home interiors due to features like customizability. This type of flooring can be polished or stained to meet your expectations. The customizability feature of concrete adds beauty to the primary properties of this type of floor, including durability and low maintenance. The decorative virtues of concrete might surprise you. It can be a practical surface for various homes, though there are better fits for some places.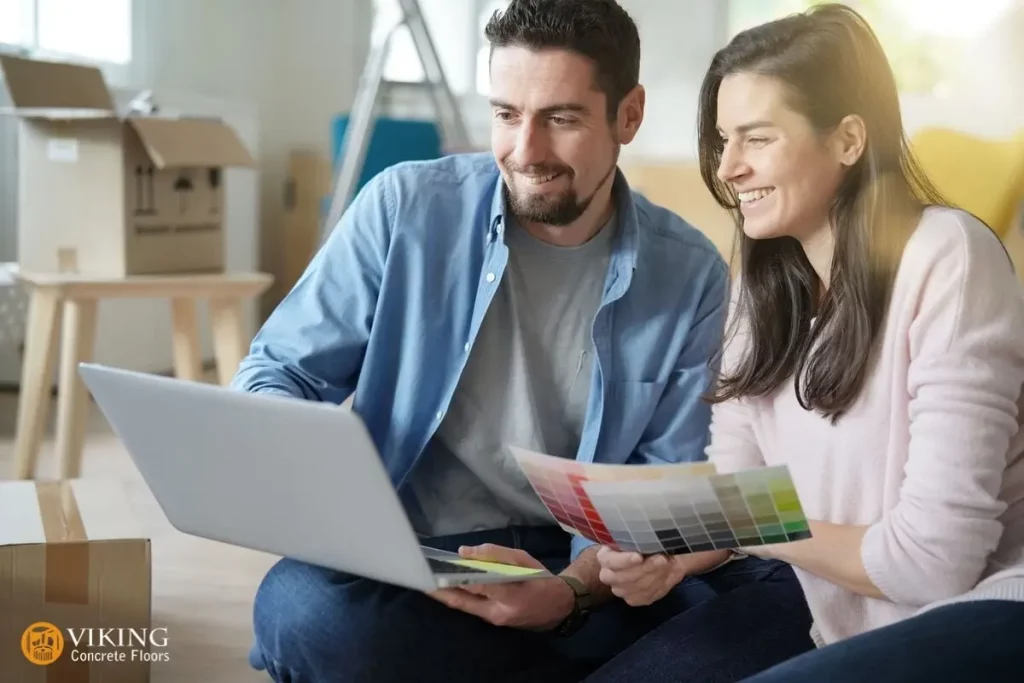 Concrete is strong and durable, and if installed properly, it will last lifelong. The excellent design options of this flooring are diverse. Some downsides are also available for this popular type of flooring. For instance, it is hard and cold underfoot in some places. If you are interested in concrete flooring pros and cons, keep reading to get further information.
The Installation Process Of Concrete Flooring
Concrete installation for residential places usually starts with grinding the existing structure. The chosen design will be applied after that. Many different colors and textures are available for concrete to choose from. Any existing flooring, like carpet, must be removed first. If the existing flooring is a concrete slab in a poor situation, you need to use fresh concrete over the slab. This overlay will become a perfect surface for polishing or colorizing. The installer will finally apply a concrete sealer to protect the surface. It would help if you repeated this treatment regularly; some experts believe in yearly reapplication.
You can even install concrete over a wood-framed subfloor. The subfloor must be carefully prepared, and then a thin layer of concrete must be over it. Then the chosen colors and textures can be applied. Remember, the concrete overlay is heavy, so the process requires reinforcing the wooden structure. Professionals install concrete floors because the installation needs expertise, and some special tools are required. Therefore, it is not recommended to do the installation by yourself. However, if you give the building to professionals, the concrete will be smooth and free from defects. You can apply any surface covering for this installation later. You have a lot of design freedom if the concrete is installed correctly.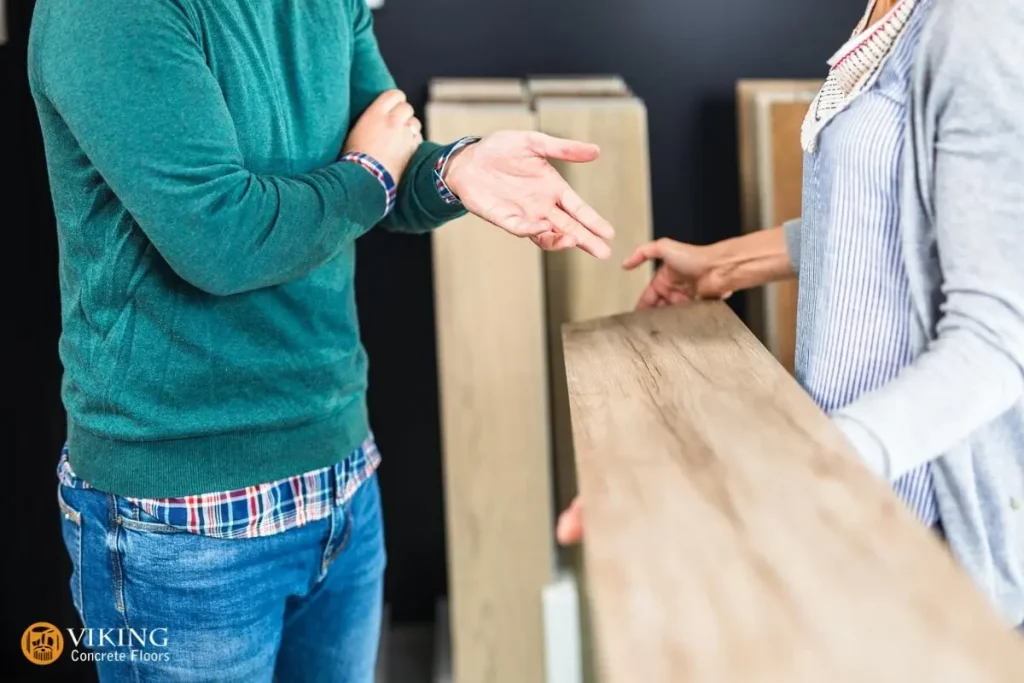 Some Advantages Of Concrete Coating
Concrete is durable and robust. It is the best flooring for places with heavy equipment or high foot traffic.
Maintenance of concrete is easy, and the only required thing is sealing or waxing, which you can do every 1 to 3 years.
You can clean concrete surfaces easily by mopping the floor periodically.
Concrete is a perfect choice for modern-style buildings. Various textures and colors will be achieved through this type of flooring.
Concrete is customizable, so it meets the expectations of different individuals. Businesses can even have their logo on it, which is a great marketing campaign.
Many colorizing and texturizing techniques like overlay, polished, acid-stained, and more can be applied to concrete.
Concrete flooring is affordable and budget-friendly. Concrete installation is much cheaper than other flooring options.
Concrete is an eco-friendly choice with no harm to the environment. You can reutilize the existing concrete subfloors, and cutting down trees and things like that is not required.
Concrete is pet-friendly floor and an ideal option for families with little kids due to its sustainability and durability features.
Concrete is also resistant to germs and bacteria, making it a safe and protective flooring option.
Are you looking for concrete flooring in & near Prairieville, LA? Our concrete flooring company is the perfect choice. We offer quality flooring services to our clients. Our concrete contractors are always ready to help you through the entire floor installation process. We at Viking Concrete Floors are unique due to our years of experience and hard work. Call us at 225-313-7950 immediately to join a revolution in flooring!
Downsides Of Concrete
Although the concrete is rugged and durable, it can be hard underfoot and unpleasant to stand on for a long time. The dropped items on this hard surface are more likely to break.
This type of flooring can be cold underfoot, so it is unsuitable for places with poor heating systems.
If the concrete is not sealed well, it will absorb moisture and create mold and mildew.
It is not a good choice for traditional designs. So, the use of concrete will be limited.
Concrete requires occasional resealing, and it takes work to patch.
Some cracks can develop over the concrete over the years.
When concrete is wet, it can be slippery and create safety hazards.
Is Concrete The Right Option For You?
It all depends on your home style and preferences. Concrete can be a great choice if an existing slab foundation is available at your home. Many appreciate the exclusive advantages of concrete, like longevity and durability, so they enjoy this flooring option. Affordability is another feature that persuades many people to choose concrete. For example, you might never need floor installation if you use concrete. There are treatments for some of the downsides of concrete. For instance, you can use a rug on the walkway to avoid the cold and complicated feeling you might face. However, if professionals do the installation for you, many later problems will disappear. These professionals can also guide in resolving many issues at later stages.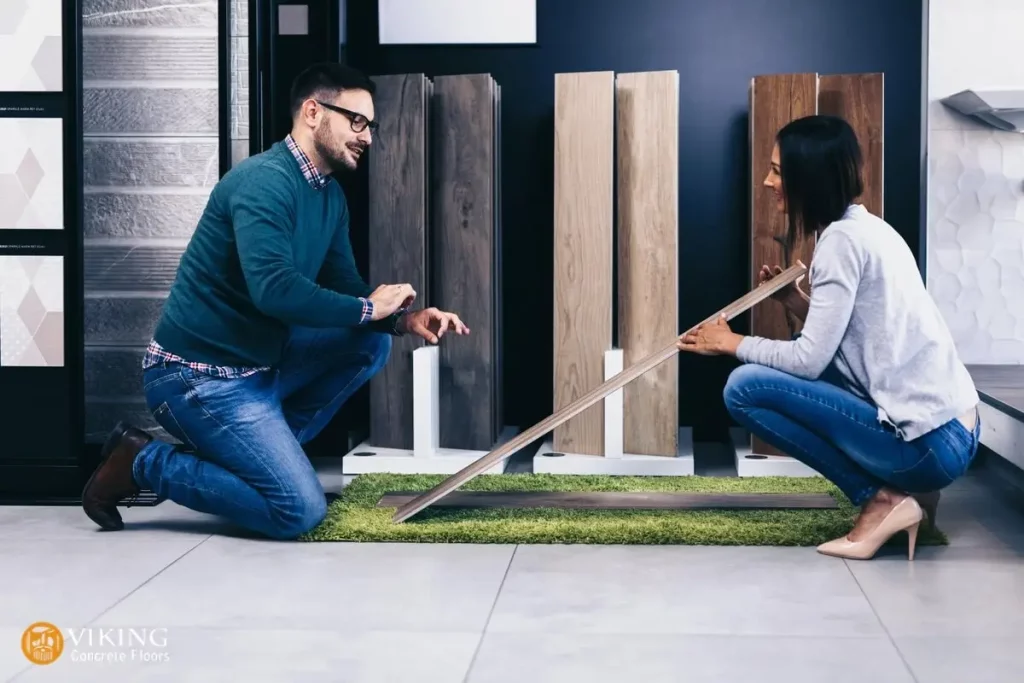 Concrete Flooring In & Near Prairieville, LA
If you are looking for a concrete flooring company near you, we at Viking Concrete Floors are ready to help. Our top-notch services are the result of experience and knowledge. We have qualified experts who are knowledgeable enough to help you through concrete installation. Customer satisfaction is our ultimate goal, and we work hard to achieve it. The history of our company confirms the performance of the team. You will undoubtedly fall in love with our services and staff. Our friendly teammates are also good listeners and do their best to meet your expectations. Contact us immediately!
If this post was helpful to you, please leave us a 5star review. It would help us a lot. Thanks!
by John B.