Why Do Concrete Floors Beat Other Flooring Down?
Concrete flooring is a wonderful option for anywhere due to its many benefits. This type of flooring is allergen-free and aesthetically pleasing. It is long-lasting with easy cleaning. The maintenance cost of concrete floors is so low, which is incredibly helpful. When the word concrete comes to mind, most people think about outdoor spaces like patios or pathways. But many homeowners know that concrete is not just for outdoors; and it can be used in indoor spaces very beautifully. Concrete floors are customizable, and they can fit any taste and style.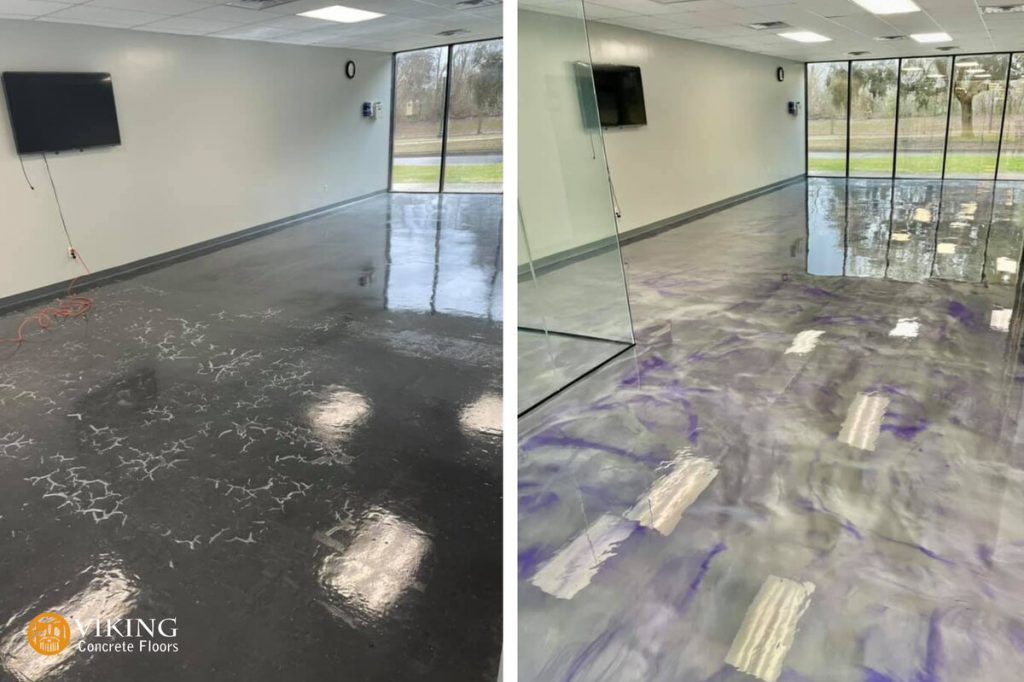 Are you considering concrete flooring in & near Prairieville, LA? Would you like to know the best concrete contractors? Our concrete floor company is the best option. We offer quality flooring services because we have years of experience and the most qualified professionals on our team. Our experts can give you professional advice before installing any type of flooring. They are also with you through installation and after that. These experts have the most helpful tips for the maintenance of your flooring. Our history is a telltale sign of our performance. The satisfaction of our valued clients is our ultimate goal. Contact us to join a revolution in flooring!
Concrete Flooring Pros and Cons
Concrete floors have various advantages and some disadvantages. If you compare these benefits and drawbacks, you will notice the advantages beat the disadvantages, and this type of flooring is a fantastic choice.
The Advantages of Concrete Floors
They are affordable with various designs for any budget
Many creative choices are available
There is a minimum or no maintenance
Concrete floors can last for a lifetime
Resistance to moisture and stains
Concrete floors are not aggressive to pets
Concrete is allergen-free
Heating through a radiant system is possible
Concrete flooring is free from volatile organic compounds
The Disadvantages of Concrete Floors
Some occasional resealing might be necessary
Patching is not so easy
Rugs are required in some areas to bring warmth and comfort
Cracks can worsen over time if you ignore them
Concrete floors are slippery when they are wet
Ideal Places for Concrete Floors
Concrete is the right option for some places inside or outside your living space. Here's a list of ideal places where you can use concrete as a flooring solution:
Kitchen
The kitchen has the most uses inside the home, so it needs a durable and long-lasting floor. The kitchen floor is exposed to foot traffic and heavy devices. Concrete is the best choice to protect the floor against these kinds of pressure. Concrete can also be used in various designs, which is unbelievably helpful for kitchens. Joints and grout lines are not available on concrete, so the cleaning will be done in no time. If you want to read more about kitchen concrete flooring, you can do so in this article.
Foyer, Bedrooms, and Entries
Decorative flooring can make the best impression in these places. Entries are busy areas where dirt can come to them very fast. The primary features of concrete, like durability and easy cleaning, make this type of flooring the best idea for these kinds of places.Are you looking for concrete flooring in & near Prairieville, LA? Viking Concrete Floors is the best option. The quality of services in line with professional teammates makes us unique. Our experts are experienced enough to help you through the entire flooring process. You deserve one of the best flooring experiences, so give us a call right now!
Bathrooms
An excellent bathroom flooring option must be stylish, long-lasting, and resistant to dampness. Concrete flooring covers all of these characteristics. Radiant heating can be helpful for concrete floors so that you can walk barefoot.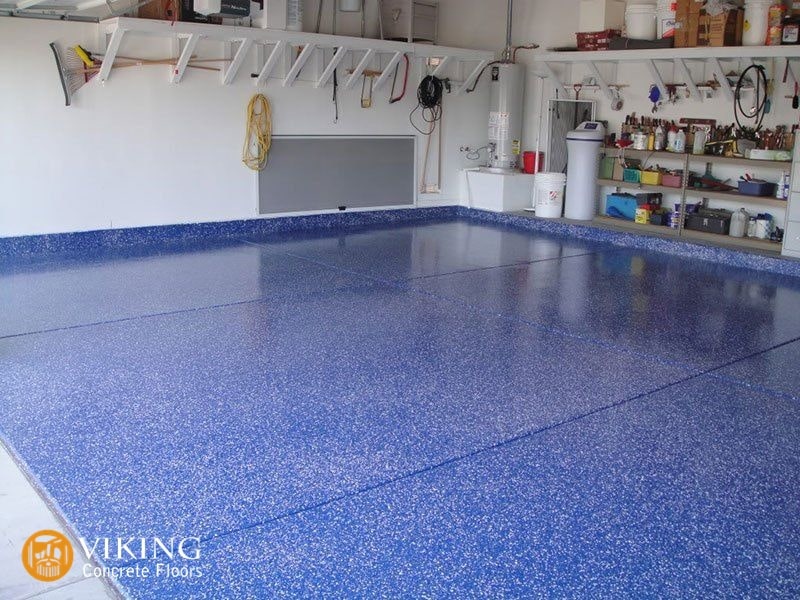 Garage
Garages are extensions to our living places, so making them as beautiful as other parts of the home is better. We can apply various color combinations and styles for concrete flooring in our garage. Garage space needs a durable floor due to the presence of heavy vehicles on it. Concrete can provide both durability and beauty for garage floors.
Are Concrete Floors Really Affordable?
Affordability is one of the prominent features of concrete floors. You will notice the difference if you compare concrete to other flooring options like carpet or tile. The maintenance cost of concrete is also lower than other options. Concrete floors can be in different designs and colors, and they can completely match different budgets.Affordability is crucial in today's world. As you know, inflation is running around the world, and the purchasing power of people is reducing. COVID-19 affected all sectors of the economy, and governments had to print an unprecedented amount of money. As a result, inflation is now out of control, and life is much harder for people worldwide. So, affordability can be vital in this situation, and fortunately, concrete floors are more affordable than many other flooring choices.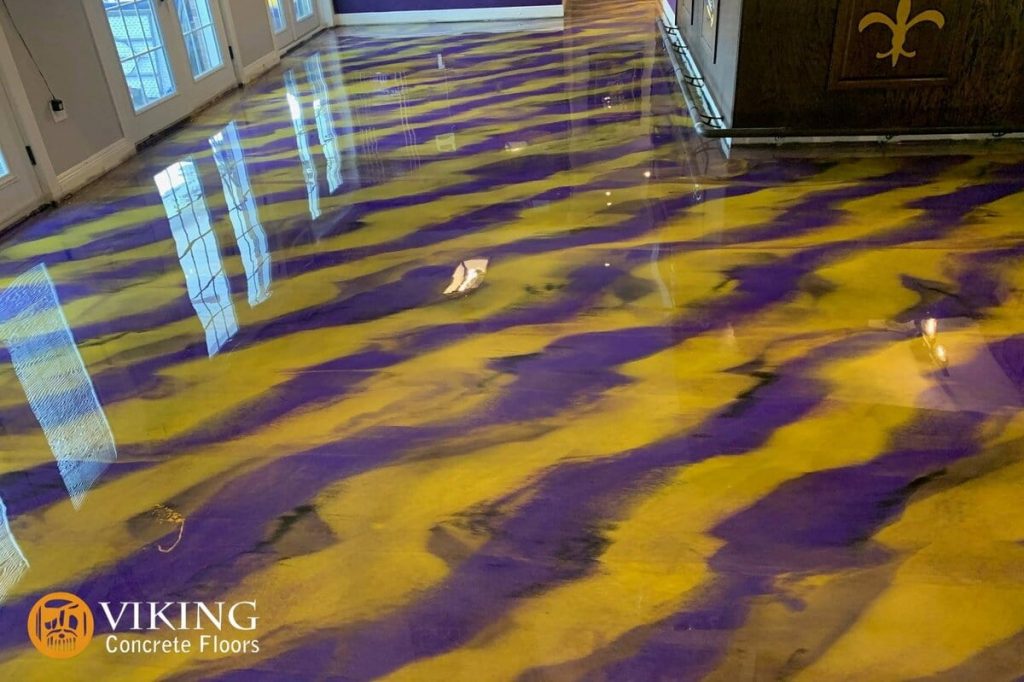 Concrete Can Increase the Resale Value of Your Living Place
Concrete floors are available in numerous colors and designs. It means you can embellish your home very nicely. When your home has a stylish and appealing decoration, the resale value will increase, and more customers will be interested in it. The new homeowners can install their favorite floors on the concrete without removal costs. These new owners can also keep the concrete as is. Concrete can be used for decades with low maintenance costs. Longevity will save you money and energy. All these features can lead to an increase in the resale value of your living space.
Concretes are Easy to Clean
People are too busy these days, and most have part-time jobs. So, they can't spend a lot of time cleaning the floors. Buffing the concrete surfaces can bring back the original quality. As there is no place for dirt and germs on concrete, cleaning will be easy. Due to the preciousness of time in today's world, this feature is indispensable. Effortless cleaning means less exposure to germs and allergens because when something is easy, you will do it well most of the time.
Are you searching for concrete flooring in & near Prairieville, LA? Our company is ready to help you. We have the best experiences in the field in line with qualified experts. Call us at   to get the services you deserve!
If this post was helpful to you, please leave us a 5star review. It would help us a lot. Thanks!
by John B.