Everything You Need to Know For Kitchen Concrete Flooring
Concrete flooring in kitchens is not favorable for everyone. Although some people don't like this kind of flooring, it can be stunning in some unique places. There are numerous details regarding this type of flooring. Various styles are available for this sort of kitchen flooring, and if you are serious about that, our concrete flooring company can help a lot. This article will discuss the pros and cons of this process alongside many other details.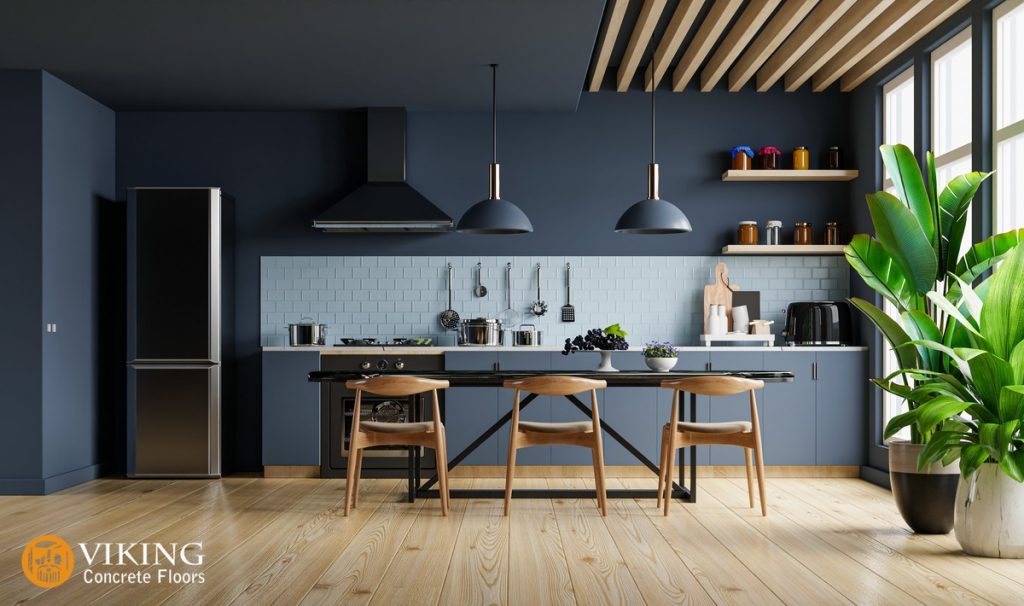 The pros and cons of kitchen concrete flooring
Concrete kitchen flooring has various advantages, but on the other hand, there may be possible drawbacks. You have to look at these different benefits and disadvantages and make your decision. Companies that offer these kinds of services are excellent choices for consultancy. Viking Concrete Floors is one of these companies with professional experts that you can trust as consultants.
Advantages of concrete flooring
You can make the floor from the existing material or a new one. The outlook of this particular flooring is stylish and attractive in a way that is adorable to many people. There are various options for color, polishing, and more. When the closure and sealing of the floor are suitable, it will have a fantastic resistance against staining. It has a radiant heating capability that saves a lot of costs for you in the long run. It can last for a long time, around 100 years. Volatile Organic Compounds are trouble-making in other types of floors that are not available in concrete flooring. This kind of kitchen flooring is not costly compared to different methods of flooring.
Some drawbacks of concrete flooring
This type of flooring needs a professional and skillful workforce, and it is so time-consuming. Staining is widespread in kitchen flooring, and sometimes it is not controllable. Radiant floor heating is a must-be, and without that, the floor is cold on winter days. Being noisy and having echoes are two other drawbacks of this type of flooring. Standing on it for a long time is not comfortable. It is more susceptible to breakage than other floors. Perfect flooring is not so cost-effective due to combining different processes.
How to install the floor?
The installation process is time-consuming, and it takes from a couple of days to some weeks. Experts can use various techniques in this process that affect the time. Detaching the old floor and cleaning takes about 1 to 2 days. Pouring process and pigmenting need another day. Specialists insert the materials into the concrete on the day of pouring.
The acid-stained process takes a couple of days, and you have to wait 2-4 more days to permit the stain to force a way into the surface. Polishing takes around three days of work. Using better sanding pads needs more days, and finally, the sealing process takes about two days.
Factors that affect the cost
The cost of concrete flooring depends on various factors. In the beginning, you need to clean and provide the subfloor. The cost of this primary process depends on what you need to do. The installation of slabs and polishing are two other factors affecting the price.
There are other potential costs that you may face during the process. Coloring, stamping, coating, and more are among the elements that can cause more money to spend. A perfect concrete floor costs more than you may think.
The cleaning process of the kitchen floors
It is necessary to clean the dirt off the floor. Otherwise, the sealer won't be able to guard the base against stains. Then, you have to vacuum the floor constantly. Be cautious not to damage the floor while cleaning it.
If vacuuming is not beneficial and you cannot remove the dirt, use a piece of cloth with some warm water. Detergents are harmful, and they can make the floor colorless. Never use acid agents like vinegar for these kinds of floors. They can cause real damage.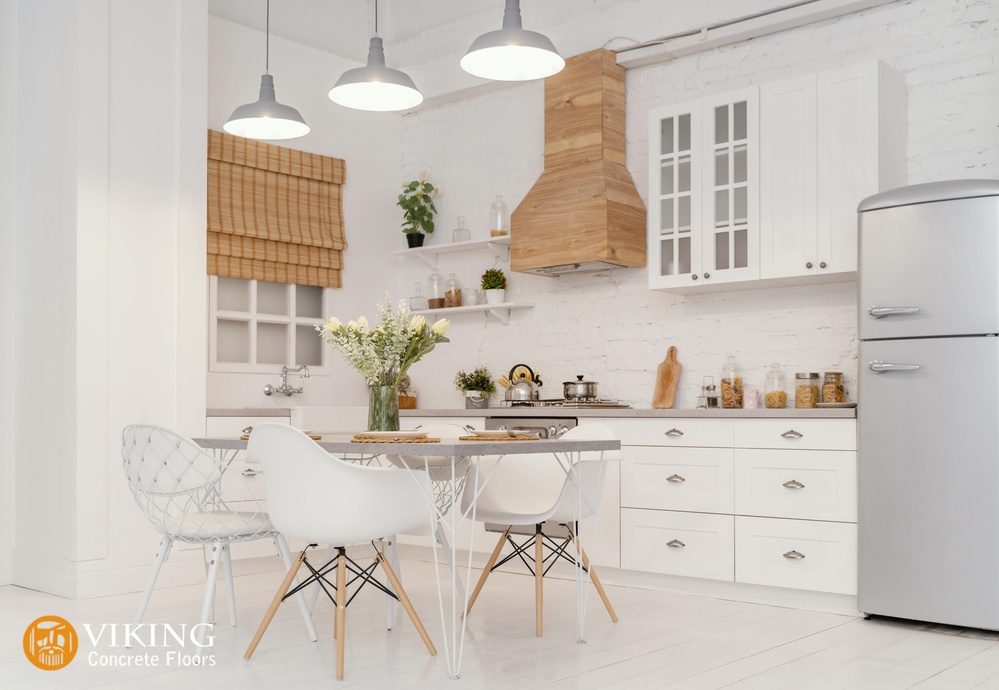 Some interesting ideas for concrete flooring
Concrete flooring is customizable, and you can implement different ideas on them. Here, we talk about some exciting ideas to bring more freshness and vitality to our designs.
In the coloring process, you can add a tint to the concrete. It helps to create an exhaustive list of colors. It provides various choices for the designer.
If you want a more natural outlook, acid staining is an exciting method that changes the color of the surface. In this case, concrete will be like stones in nature, and it`ll have shades and other natural features. You can use some materials like glass and tiles in the concrete. It can help you to provide various designs.
Epoxy coating is a great technique that you can use. Making a three-dimensional outlook can embellish your concrete surface to a high degree.
Stamping is another good idea that can affect the final result. A plethora of designs can be created by using this technique.
When the concrete finishes, specialists use another technique called saw cutting. It will present a uniform appearance of the concrete. The process adds more beauty to the final structure.
The polishing level depends on the materials that you use. Depending on the utilized materials, you can create a dark or a bright appearance. Search for these different designs on google. You will see many different results concerning the materials used.
Some people are clumsy and spill different things while they cook. Proper sealing of the floor can assist these people a lot. In this case, the floor won't get compromised.
Final thoughts 
A suitable flooring is a must-be for a modern kitchen. This sort of flooring must be cleaned and protected easily. This flooring structure is comfortable for pets as well. For Concrete Flooring In & Near Prairieville, LA, call us at (225)-313-7950 for the best floorings in the region.
Our company, Viking Concrete Floors, offers various solutions depending on your tastes. If you care about the beauty and outlook of your kitchen, don't hesitate to contact us.
If this post was helpful to you, please leave us a 5star review. It would help us a lot. Thanks!
by John B.