Concrete Floors for Game Room Flooring
The game room is a gathering place for entertainment. Due to high foot traffic and other factors, game room flooring must meet standards. Figuring out some innovative ideas for your game room floor will make it more delightful for you, your friends, and your family. Ideally, the flooring for game rooms must be both durable and fun-looking. Concrete floors can be a great option for game rooms and meet many of the standards. Choosing the right flooring for your game room depends on your needs. For instance, some specific needs will occur when you have a rambunctious toddler. It seems that concrete flooring is appropriate for many different conditions. Keep reading to know more.
Why concrete flooring?
This type of flooring attracts more attention to your game room. Many people these days use concrete as a flooring option because of its many benefits. Modern homes with a minimalist feel usually choose concrete as the best option for places like a game room or family room. Fortunately, you can do concrete floors in various colors and styles, which is a significant advantage. So, you can have your game room floor in multiple textures and colors. Some people think concrete is only drab and gray, but it is incorrect, and real artists can create floors that bring joy and delight to you.
Furthermore, concrete is a cheap alternative to other types of flooring. As a result, concrete is affordable, which is a crucial factor in today's world. It is possible to imitate other surfaces and floors using concrete, which is a fantastic feature. You can mimic tile, stone, and different types of flooring while maintaining the great features of concrete, like durability.
Some advantages of concrete floors for game rooms
Concrete is durable and outlasts other elements of the building. The game room is a place with high foot traffic, and durability is crucial for that. This type of flooring also has enough stiffness to carry the imposed load, which is a significant advantage for a game room. It is energy efficient and provides thermal comfort. So, you use less energy during cold winter days to keep your game place warm and comfortable. The speed of construction is very fast for concrete floors, which are damp-resistant. So, you can easily wash and clean your game room floor without worrying about dampness and similar issues. Concrete has low maintenance costs, and it is extremely durable. Concrete is also non-combustible, so that it can prevent many hazardous accidents. Are you seeking concrete flooring in & near Prairieville, LA? The best option for you is Viking Concrete Floors. We are a fantastic concrete flooring company, and our concrete contractors can offer the best ideas to you; our experts will tell you everything about concrete flooring's pros and cons. Years of experience and hard work make us unique in the industry.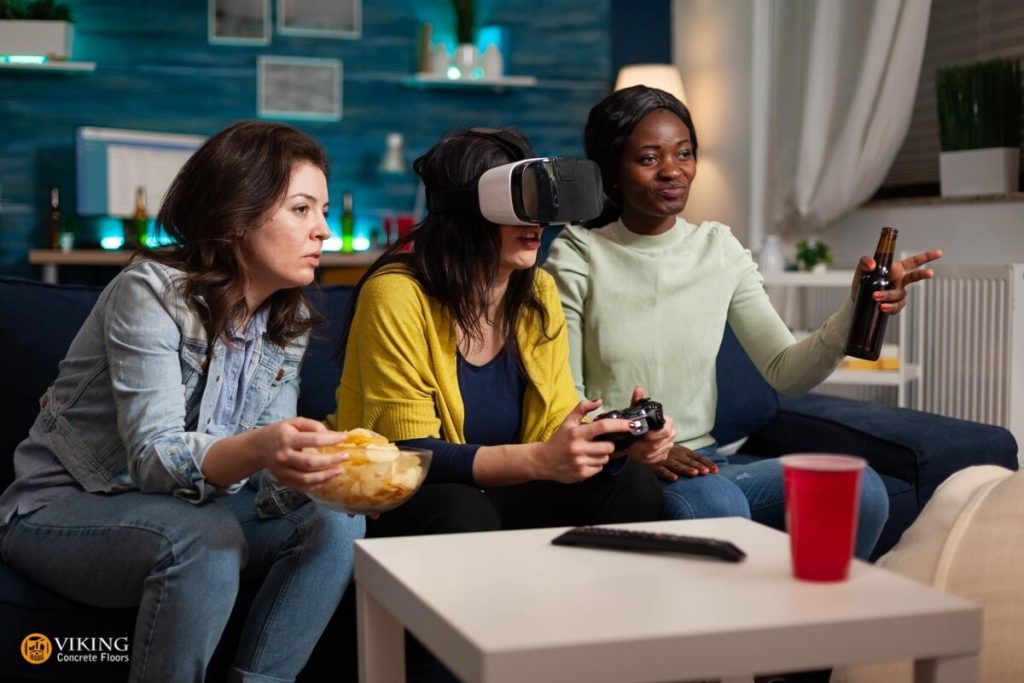 We provide quality and affordable flooring services for our esteemed clients. Customer satisfaction is our ultimate goal, and we do everything to realize that. Contact us immediately to achieve what you deserve!
Some factors to consider in game room flooring
The first thing you have to consider is your budget, and you must choose your flooring accordingly. Then, you need to determine the size of your game room. Some individuals want a large game room for friend gatherings, and some prefer smaller spaces. You should plan your game room according to its size, and knowing its length is the first step.
How do you use your game room? How many people will gather at it? The answers to these questions can affect the type of flooring you choose. For instance, if many children will gather in your game room, you prefer something with low cost and maintenance. The specific purpose of the gaming room is also essential. There are lots of activities in some gaming rooms, and some others are only for significant events.
What is the best flooring for a game room?
Various choices are available for game room flooring. Hardwood, carpet, and concrete are some of these options; choosing the correct flooring depends on the room's function. Many different activities can be available in this room. For example, it can be an area for watching sports or a place for kids to hang out. Sometimes, it'll change to a dancing studio. So, your needs and purposes are crucial, and you need to start considering these kinds of issues. Concrete flooring is a great option to bring comfort and excitement to your game room. Concrete is a naturally streamlined aesthetic in line with robustness and durability. This type of flooring can be cleaned easily, which is a significant advantage for these kinds of places that are usually messy. If you want a hassle and mess-free game room that is cleanable after a night of watching rugby or football with your friends, concrete is the best option.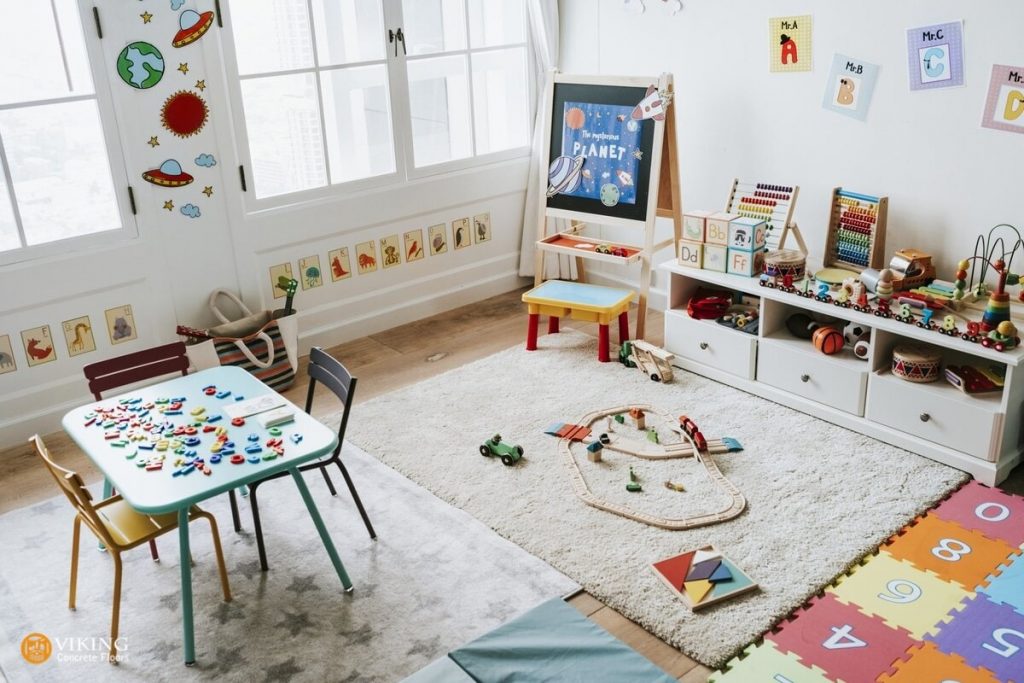 Concrete can be helpful if you are interested in a classic, sleek appearance. Compared to other options such as wood flooring, it is much cheaper. It is an option that matches every budget. You can spend more money and add beauty to concrete because it is customizable and various colors and textures are available for it. Concrete floors can last a lifetime if they are done correctly.
Use the services of Viking Concrete Floors
Are you considering concrete flooring in & near Prairieville, LA? Our company is the best choice. We provide quality services for our clients. Talk to our experts and tell them your budget, and they will give you the best ideas. Our customer service is amicable, and our professionals are ready to help you through the entire flooring process. Years of experience make us one of a kind, and our history confirms the company's performance. We are prepared to offer you the best concrete flooring options. Call us right now to feel the difference!
If this post was helpful to you, please leave us a 5star review. It would help us a lot. Thanks!
by John B.