Why Concrete Flooring Is Beneficial for Restaurants?
Restaurants must meet some expectations to serve their customers. The durable floors are the primary need for these places due to the high traffic of food lovers and kitchen equipment. These floors must be easily cleanable to remove spills, grease, and similar issues. In a restaurant, concrete flooring is excellent, providing all the standards required of restaurants. Concrete floors withstand high traffic, which is ideal for these types of places. Today, more restaurants are switching to concrete due to its beneficial features. This type of flooring has the following benefits.
Are you looking for concrete flooring in & near Prairieville, LA? Are you considering hiring excellent restaurant flooring contractors? Our concrete floor company is the answer. We provide various quality services like restaurant non-slip floor coating. Flooring is our specialty, and our professional experts have extensive knowledge. Years of experience make us distinguished in the industry. Call us at +1-225-313-7950 right away to experience the power of our quality services!
1- Concrete Floors Are Durable
The flooring of restaurants must remain intact and pristine for a long time. The traffic on the floor of these places is constant. So, the floor needs to be resistant to breaking and damage. Concrete is the best option because it won't break or get a loose tile. Businesses can't regularly reinstall floors and spend plenty of money on flooring. Concrete flooring is the right solution for these businesses because it lasts a long time. If concrete floors are installed appropriately for restaurants, they will last a lifetime. So, restaurant owners must know these facts and choose the ideal flooring. They can't close their places every year to install new floors.
2- Concrete Is Slip-Resistant
Restaurant flooring should prevent slips and falls. The restaurant owners don't want their flooring to be slippery and a source of falling. The good news is concrete floors are slip-resistant due to the texture of the surface or using a gritty finish. The slick surfaces can create severe problems in these places for both staff and customers. The restaurant staff needs to carry food and stuff to the customers, and a slippery floor can cause various damages.
3- Easy Maintenance
If spills and drops occur on the floors of restaurants, staff should clean them as soon as possible to avoid creating a bad impression. Fortunately, concrete is easily cleanable. The lack of joints or grout lines is another crucial benefit of this type of flooring because you won't be worried about food stuck. You can simply scrub concrete floors using damp or dry mops. The amount of cleaning required for concrete is minimal, which is fantastic. This flooring must be sealed every few years.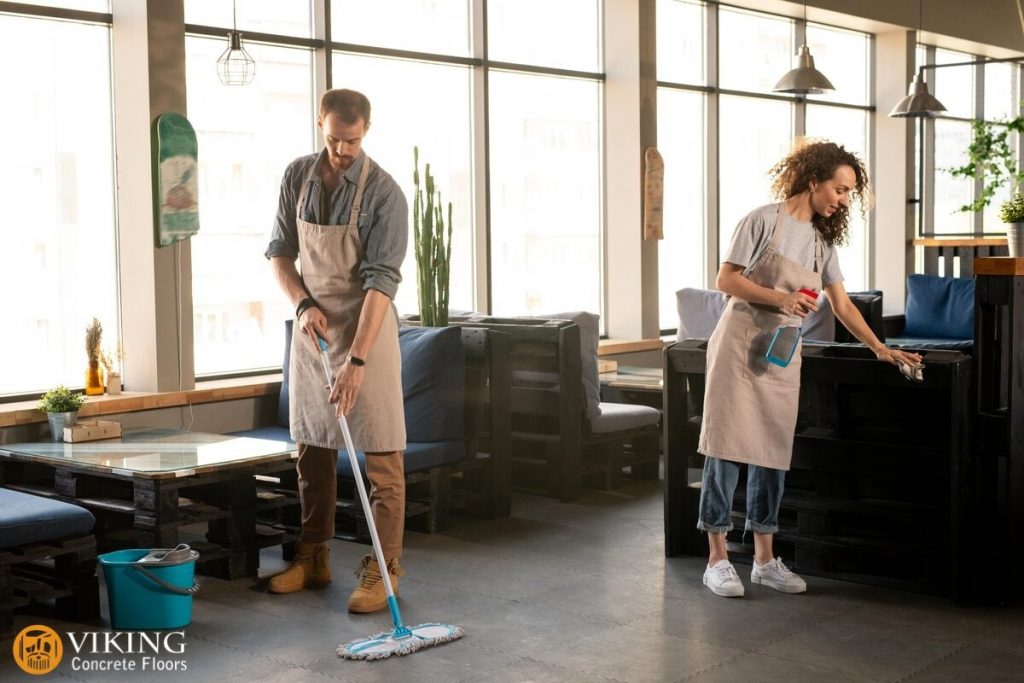 4- Concrete Is Customizable
Restaurant owners want floors that reflect their brand. Choosing flooring that matches the brand of a restaurant is highly professional. A suitable kind of flooring will impact the atmosphere of a restaurant. One of the beneficial features of concrete floors is customizability. This type of flooring offers various looks without sacrificing its benefits. Staining or epoxy finishes can make these floors any color you want. You can even create a look similar to hardwood floors using concrete. There are endless possibilities for this type of flooring. It is possible to create a variety of looks and colors with concrete, which is perfect for many restaurants and institutions. The stylish look is the primary feature for many firms and organizations in the contemporary world.
Are you searching for flooring company in & near Prairieville, LA? We provide various quality services for our esteemed customers. As you can see in our portfolio, we have experience with commercial concrete flooring  and industrial concrete flooring for restaurants. Our teammates have the qualifications and knowledge to help you through the entire flooring process. Our professionals are ready to help and answer all your questions. Call us at 225-313-7950 right now to get what you deserve!
5- Concrete Can Bring Floor Polishing
Restaurants serve food to customers in the front, which is an appropriate area for polished concrete floors. Food preparation and cooking usually occur in the back of the restaurant. This part of the restaurant can be sealed with epoxy to avoid the effect of issues like spills and grease. Concrete floors are not only beautiful, but they have various advantages. These floors can match other colors to bring more harmony with the place's décor. Floor dying is a crucial feature for concrete floors, creating a unique look.
6- Concrete Meets Sanitary Requirements
Government agencies enforce sanitary regulations and crack down on restaurants that fail to meet the standards. Concrete has non-porous and antibacterial features, so it is the best option regarding sanitary standards. Restaurant facilities can easily pass their inspections with this type of flooring.
7- Concrete Is Budget-Friendly
Managing the budget is highly important for businesses. Concrete floors are the most affordable type of flooring. The money that you spend on these floors is worth it. Business owners are not interested in expensive flooring with high maintenance costs. So, they usually choose concrete due to its affordability and low maintenance cost. There are various other needs for businesses, and saving money on flooring can be beneficial to meet different requirements.
8- Concrete Can Bring More Value to Your Business
Concrete floors can add significant value to your business. These floors bring a professional, sophisticated look to your business, and the good news is they last a long time. So, you can retain this professional look and reputation for a long time. For various businesses, some standards are global. Concrete floors help firms to meet those standards. Creating a matching floor with the restaurant's brand is an innovative feature that brings a more professional look. Concrete floors are the ideal choice for restaurant owners due to so many different advantages that these floors have.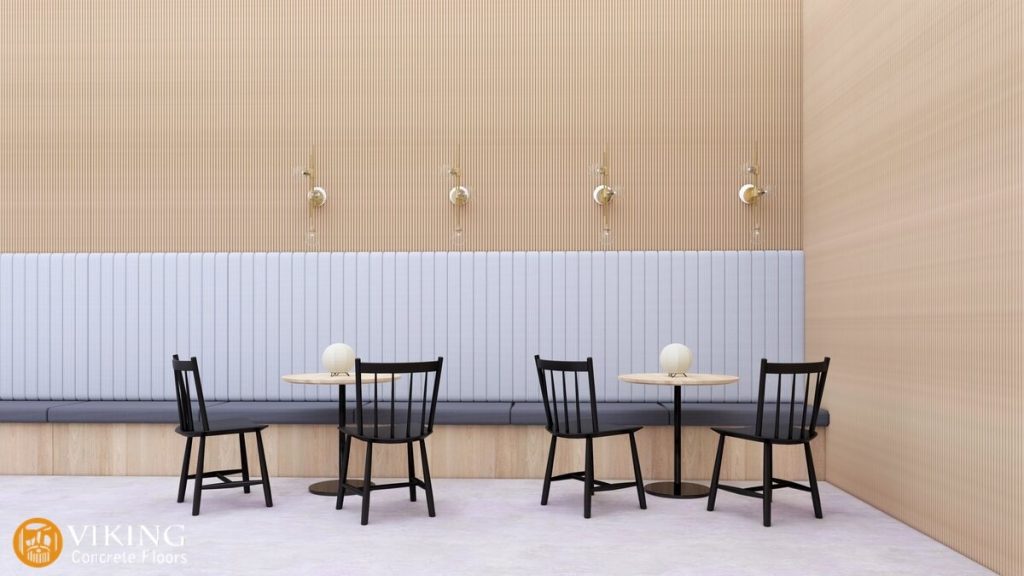 Need A Consultation?
If you need concrete flooring in & near Prairieville, LA, our company can help. We offer the most reliable services in the industry because of our highly educated professionals. At Viking Concrete Floors, We specialize in hassle-free and seamless installations. Call us at 225-313-7950 immediately to experience our quality services!
If this post was helpful to you, please leave us a 5star review. It would help us a lot. Thanks!
by John B.