How to Make Pool Deck Less Slippery?
Combining pools with concrete floors isn't always disastrous. For one thing, if a concrete flooring surface near a pool is slick, the cause is usually a topical sealer, not the texture. If you want to keep customers from slipping on their new concrete surface, that's good to know and something to consider before you fix slippery concrete floors.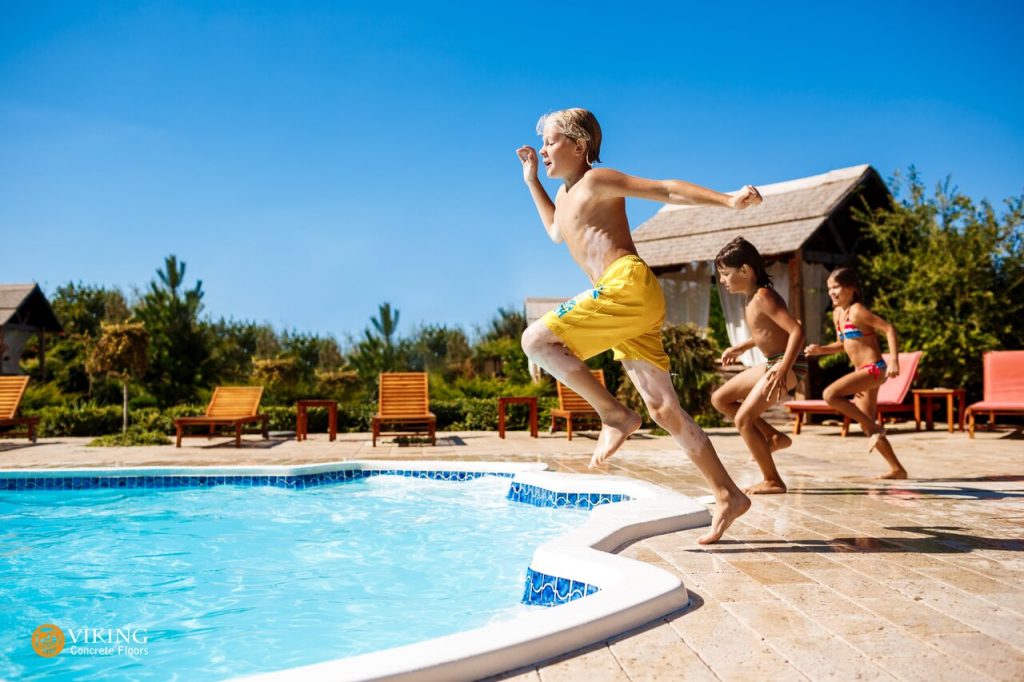 Our concrete flooring offers 2 options to make non-slip pool deck surfaces. Cool touch finishes and rubber pool decks are the best ways to make the area around your pool less slippery.
Rubber Pool Deck
Rubber surfaces around pool decks are preferred by many of our clients because of the benefits they offer to them and their children. As a result, they feel at ease knowing that rubber decking is safe and durable for their family. Consider some of the many benefits associated with rubber surfaces for your pool decking if you are on the fence about whether one is right for you.
Slip Resistant
You cannot prevent your children from running around the pool no matter how many times you tell them not to. Rubber decking is not slippery when wet, as some decking options are. With its non-skid surface, your children will be protected from injuries even when it is wet, making it the best pool deck material. Therefore, you can relax without worrying about the safety of the people around your pool.
Long-Lasting
The best feature of the rubber pool deck is its ability to stretch and expand to accommodate changes in the substrate. It can be applied to almost any type of solid material, such as concrete, stone, wood, or even aluminum. As the earth shifts beneath these substrates, they can crack or chip over time. When this happens, the rubber will maintain its shape and integrity. Temperature changes will even allow the rubber to expand and contract.
Easy to Clean
The last thing anyone wants to do when they could be enjoying their pool is spend all of their free time trying to maintain it. Thanks to the fact that the rubber pool deck resists stains and can be cleaned with just soap and water, rubber decking is easy to maintain. It can be sprayed down with a garden hose and soapy water to make sure that it's clean for the week. For someone who does not want to pressure wash their wooden decking every week, this is a great option.
Cool Pool Deck
Have your feet ever been burned by concrete that has been in the sun for a long time? Although this can be a painful experience, it is unavoidable with certain types of pool decking. It may be too hot for tender soles to walk from your lounge chair to the steps. The cool pool deck is resistant to heat and keeps your feet cool during hot summer days. A textured acrylic coating is one of the coolest options for pool deck surfaces. Compared to other materials, a coating made of concrete and acrylic will absorb less heat. In addition, the surface feels cooler to touch because less surface area is exposed to bare feet when they walk on it.
If you already have a concrete pool deck but would like to make it cooler, you don't have to rip it out and start over. Resurfacing is another option. This option is less costly, less messy, and less of a headache than removing the old concrete and pouring new concrete. Additionally, we can repair any cracks or other damage to the pool deck before resurfacing it.
A cool deck overlay for pools can be applied directly to the top of your existing decking with resurfacing. Depending on your needs, our concrete flooring company can design the coating to give you a brand new pool deck.
What else can you do?
A rubber pool deck and cool pool deck are the best options to make concrete less slippery, but there are other ways too, including:
Slip-free vs. less slippery
However, "less slippery" doesn't mean slip-free. We've found that these products work well. Although they improve the surface, they do not provide a non-slip surface.
You can add glass beads, silica, sand, and aluminum oxide to sealers to fix slippery concrete flooring, and they all work about the same. However, the surface remains slippery. They won't result in non-slip pool deck surfaces.
Non-slip additives are more effective when broadcasted onto wet sealers rather than mixed. However, to achieve enough texture on the surface, you should add so much product that it discolors the surface, resulting in an unappealing white powder-like film.
Color hardeners
There is another method to create non-slip pool deck surfaces. To do this, you should broadcast a light coat of color hardener just before applying the release and stamping. Do not trowel it in — simply throw it on. Instead of putting polymer grit in the sealer, this is a more permanent slip reduction technique. The aggregate is embedded into the stamped surface.
Combining a sealer and additives has more advantages than seeding concrete with a color hardener. However, it is not as noticeable as polymer grit broadcast on the sealer. Unlike sealers, it also doesn't wear off as quickly. As the sealer breaks down, the additive is also lost.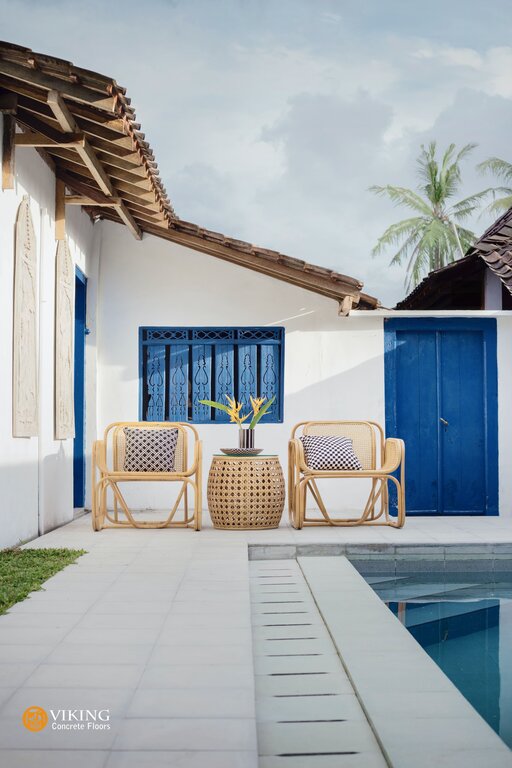 Besides seeding to help with slip resistance, we also recommend keeping the concrete surface's slope minimal. Maintain a minimum grade to increase the coefficient of friction but still control surface water flow. Also, use patterns with an aggressive texture in the stone.
Sealers and stamps of better quality
In our concrete flooring company In & Near Prairieville, LA, we avoid stamp designs like the random stone that are too flat, especially for clients who desire an acrylic sealer.
You can use acrylic sealers on concrete floors, but make sure they have a low solid content and a slip-resistant additive. 
You can also add ground-up polymer like SureGrip to the Vexcon product to make it even more slip-resistant. Sealers are problematic in themselves. It is important to be careful when adding new things to them to avoid creating new problems.
Looking for Concrete Flooring In & Near Prairieville, LA?
If you're interested in having a rubber or cool pool deck installed by our concrete flooring company, give us a call at (225)-313-7950 for the best concrete flooring In & Near Prairieville, LA!
If this post was helpful to you, please leave us a 5star review. It would help us a lot. Thanks!
by John B.