What Makes Kid Bedroom Flooring So Important?
There are many flooring options available for your kids' bedroom. There are so many types of flooring available out there that you'll surely feel overwhelmed. In recent years, the flooring industry has advanced a lot, offering a variety of materials, colors, styles, patterns, etc. You should take great care when choosing the flooring for the kids' bedroom. Kids are always very active and playful, so it is not uncommon to drop things or spill things.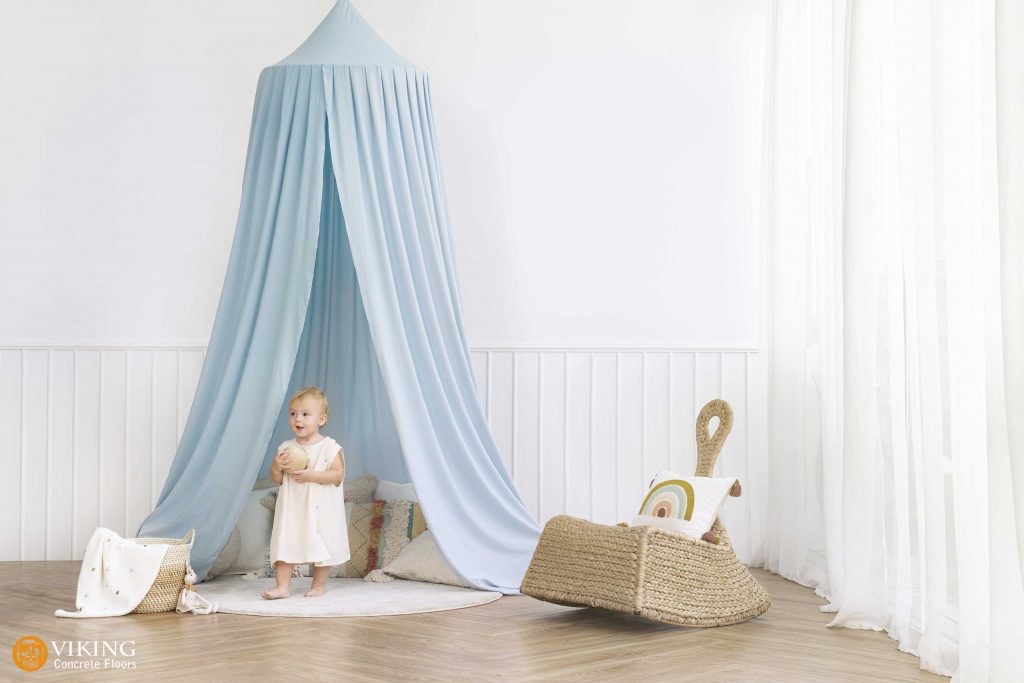 This article will discuss the important factors you should consider when choosing a child flooring and then talk about flooring options we think are most suitable for your kids' bedroom in & near Prairieville.  
Child Flooring: What to Consider
In order to determine which flooring is best for your kids' bedroom, we considered these factors:
Appearance: Are the floors aesthetically pleasing?
Durability: Can the floor withstand the test of time, or will it need to be replaced soon?
Maintenance: How hard is it to keep the floor types clean and presentable?
Scratch-Resistance: How easy is it for a toy to scratch the floor?
Hypoallergenic: Does the floor spread dust, mites, and debris, causing allergies?
Affordability: Are the floors affordable and worth the money you're paying?
Appearance
Your floor design options are endless with stained, stamped, hand-cut, and custom-colored decorative concrete finishes. Concrete floors can have stains that look like polished marble, natural stone such as cobblestone, flagstone, slate, or stamped wood plank, tile, or brick to reflect a range of styles.
You can create authentic-looking floors with decorative concrete "real stone" molds for a fraction of the cost of the real thing. You could have a European cobblestone entryway, flagstone hallways, or an Ashlar slate for your child flooring. There are a variety of earth-tone stain colors that reflect nature, or you can go outside the box with bright colors.
Durability
Without a doubt, concrete is the strongest and most durable flooring material. A raw or unfinished concrete flooring is not something you want in your home, so that's not the type of concrete we're talking about here. Our decorative concrete finishes and cool touch coatings transform ordinary concrete floors into extraordinary ones using hand-carved, stamped, or stained designs.
Decorative concrete flooring has become a stylish option for any home space, including great rooms, kitchens, bedrooms, bathrooms, laundry rooms, and kids' bedrooms. Concrete flooring is highly appreciated for its rock-hard durability, organic vibe, and eco-friendliness.
Concrete does not hold on to moisture and doesn't require chemical cleaners, so your child is in a safer environment. Make sure to clean up any spills, dirt, or debris right away from the child flooring to avoid any accidents.
Scratch Resistant
Although kids aren't as heavy as adults, they love to run and drag their toys around. That is why you need flooring that resists scratches; If not, you will need to repair your floors more often, which will cost you more money. Polished concrete floor is extremely durable and can withstand heavy foot traffic. It is almost impossible for it to be scratched or chipped.
Given the nature of the job, the child flooring is going to take a beating. Having said that, if they were scratch-resistant, you would not have to worry about scuffing them with leather shoes, scratching them with heels, or dragging furniture when re-styling. Our polished concrete floors are scratch and stain-resistant, so they are the perfect choice for your kids' bedroom!
Affordability
Concrete flooring gets more affordable over time. Since concrete flooring is made to last, it is well worth the investment. Because they can last a lifetime, you won't have to worry about repairs and maintenance costs.
Another benefit of concrete floors is that they help save energy. Compared to tiles, carpets, and wood, your utility bills will be much lower. Concrete is ideal for insulating houses from heat and cold because of its thermal qualities. Air conditioners or fans can retain cool air from the material during summer. In winter, they can keep the heat inside the room.
The money-saving capabilities don't stop there. In addition to its light-reflective capabilities, concrete can also increase the brightness of your space. You won't have to keep turning on the lights, which will also save you money on electric charges.
Conclusion
Now is the time to make life a little easier with low-maintenance decorative concrete floors. We at Viking Concrete Floors, a concrete flooring company in & near New Orleans And Prairieville, LA, offers stained, polished, and metallic concrete floor options. Fill the form below Contact us at (225)-313-7950 and talk with a professional now!
If this post was helpful to you, please leave us a 5star review. It would help us a lot. Thanks!