7 Reasons To Install Concrete Floors In An Apartment
Due to frequent heavy foot traffic and frequent furniture moving, apartments face many unique challenges when it comes to flooring. There must be apartment flooring solutions that are safe for residents, durable to withstand frequent moves, and long-lasting to minimize long-term repair and maintenance costs that negatively impact the bottom line. As an owner, you expect the apartment to be welcoming, functional, and well-maintained.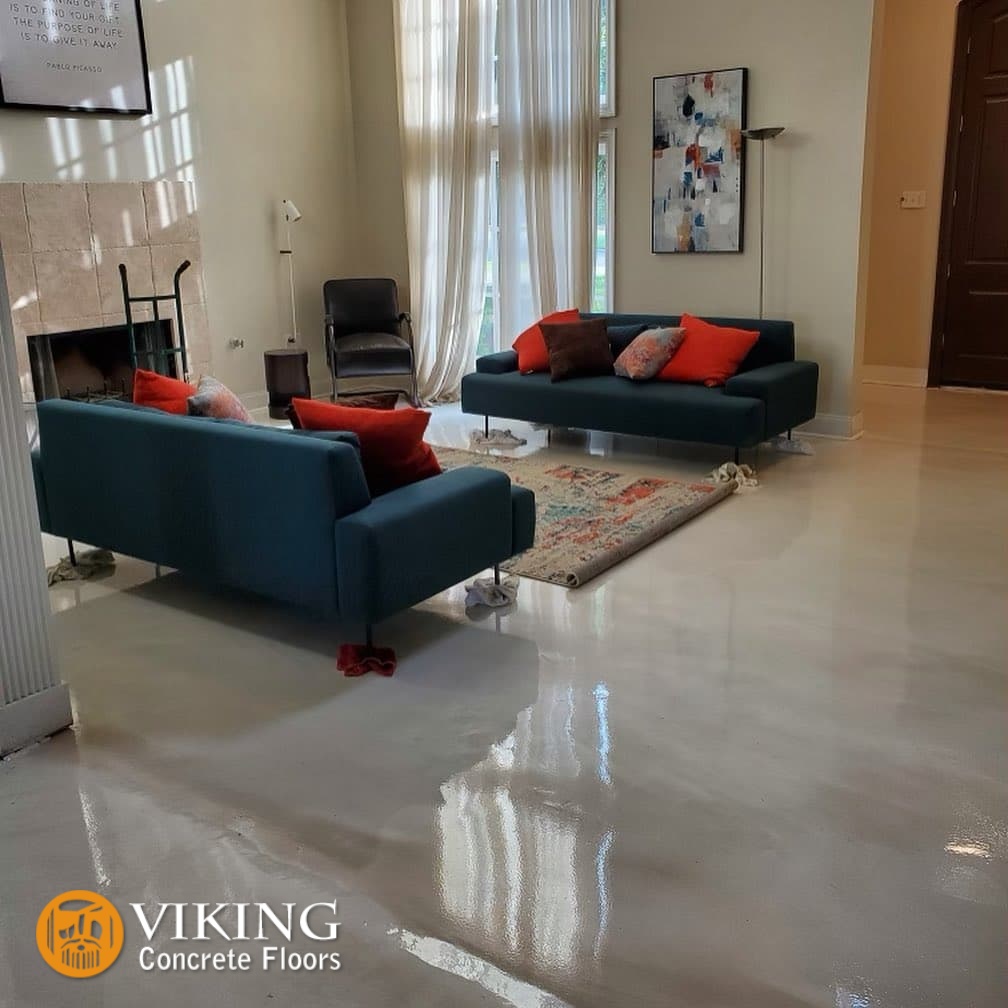 At Viking Concrete Floors, we offer a variety of stained flooring, polished concrete flooring and epoxy flooring solutions for apartments. Rather than investing in a cheaper-looking carpet that will cost more in the long run, smart property owners are investing in more decorative flooring solutions like concrete flooring for apartments.
Why Concrete Flooring
There are many reasons why concrete flooring is a perfect choice for apartments. Here are some of them: 
1. Sustainability
Essentially, concrete flooring is more environmentally friendly than its competitors. In fact, many of our customers in and near Prairieville, LA, choose different types of flooring based on their environmental impact. It doesn't matter if you believe in global warming or climate change; concrete flooring can save you money in the long run. They can even create new opportunities in commercial construction. 
Concrete flooring doesn't deplete natural resources and uses less energy than other floor types. It is also poured locally. The indoor air quality of concrete is good because it inhibits mold, mildew, and odors, contains no potentially harmful VOCs and can be finished with zero-VOC sealers. Concrete absorbs warm and cool air, minimizing the need for heating and cooling. Concrete can be recycled, and the surface reduces the need to discard waste materials, such as scraps of flooring and underlayment.
2. Easy care
Due to its durability, concrete flooring is popular among apartment owners. When it comes time to restore the shine and luster of the concrete flooring within the complex, the process is quite fast and easy. 
There is no definitive time between concrete flooring maintenance, which depends on many factors, such as use, weathering, chemicals used in cleaning, and how often the floors face spills or similar damage. However, most apartment owners find that they can go between 3 and 5 years between rejuvenating the concrete flooring with lower traffic areas needing significantly less intervention than communal areas that are much more frequent.
3. Pet-friendly
Concrete flooring can resist moisture, stains, and claw and toenail damage, but such flooring materials may not achieve your design goals. To protect your pets, it's even better if your flooring is anti-slip. Design preferences, pet damage resistance, and your ability to replace or deep-clean the flooring should be considered when choosing Concrete Flooring In & Near Prairieville, LA. 
4. Economical
Concrete floors are very affordable, ranging from $2 to $6 per square foot to polish a plain gray slab, giving it a lustrous shine. Tonal differences, cracks, and aggregates give concrete a stone-like, natural appearance.The price of more elaborate finishes ranges from $5 to $8 per square foot. Over the years, staining concrete floors has been a popular option because the outcome is determined by the homeowner's imagination – different colors and application techniques combine to create a floor finish that's unique to the home, with subtle variations.
Another decorative effect is scoring in grid pattern lines, which costs between $5 and $8 per square foot. They are still quite impressive. The floor can be made to look like limestone with a high-gloss sealant. The interior application could be sealed with acrylic to give it a wet appearance.
With a price range of $7 to $15 per square foot, you can get highly decorative faux finishes, such as a marbled effect. If you need concrete flooring in & near Prairieville, LA, contact us and get your free quote!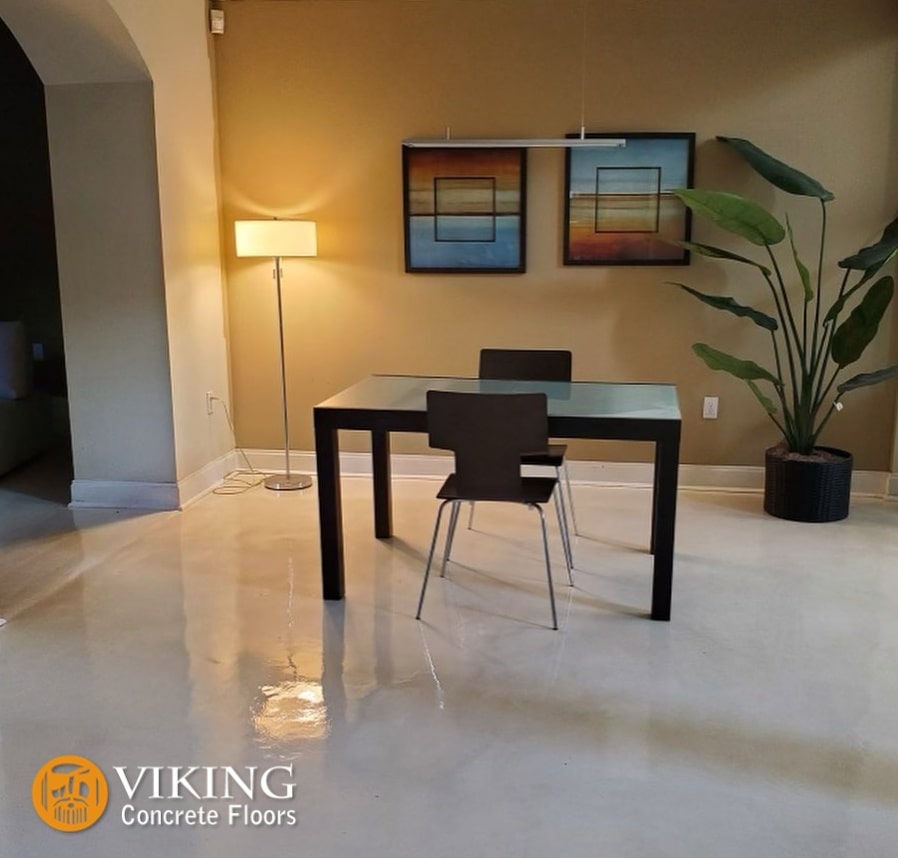 5. Longevity
Polished and well-maintained floors can last a hundred years or more. Concrete is about the best option you have if you want a floor that won't break down under pressure. Concrete is used on roads and factory floors for a reason; you're not going to drive an 18 wheeler over hardwood, but you can easily do so on concrete.
Concrete floors are also very resistant to damage due to their high levels of resilience and durability. Pets can scratch all day long, and the surface won't be marred; you can drag furniture legs across it, and it will still look the same as it did when you bought it. In the same way, most things you drop on concrete won't hurt it (although we can't say the same for the things themselves). You can chip concrete, but it's difficult.
6. Safety
When choosing materials, safety is also a factor to consider. Concrete floors are also slip-resistant, making them excellent for reducing the risk of falls in young children and people with reduced mobility.
7. Customizable
You can use decorative concrete flooring in almost any setting, including apartments. Make your apartment complex stand out to visitors and potential tenants by using a variety of customizable colors, textures, finishes, and designs. If your property has an eye-catching entryway living, your guests will be more likely to enjoy their stay.
You can choose from a wide variety of colors and textures to create the perfect look for every room in your apartment or condo. Like the look of tiles? Score lines help separate colors and textures, allowing us to create virtually any pattern.
Interested in Concrete Flooring for Your Apartment?
A durable flooring solution that is easily maintained and cleaned is perfect for your apartment. If you have kids or pets in the apartment, concrete flooring will keep them safe and secure. Our concrete flooring company offers different flooring solutions to meet your needs. Give us a call at (225)-313-7950 for the finest concrete flooring in and near Prairieville, LA!
If this post was helpful to you, please leave us a 5star review. It would help us a lot. Thanks!
by John B