How to Choose Pool Deck Surface like a Pro?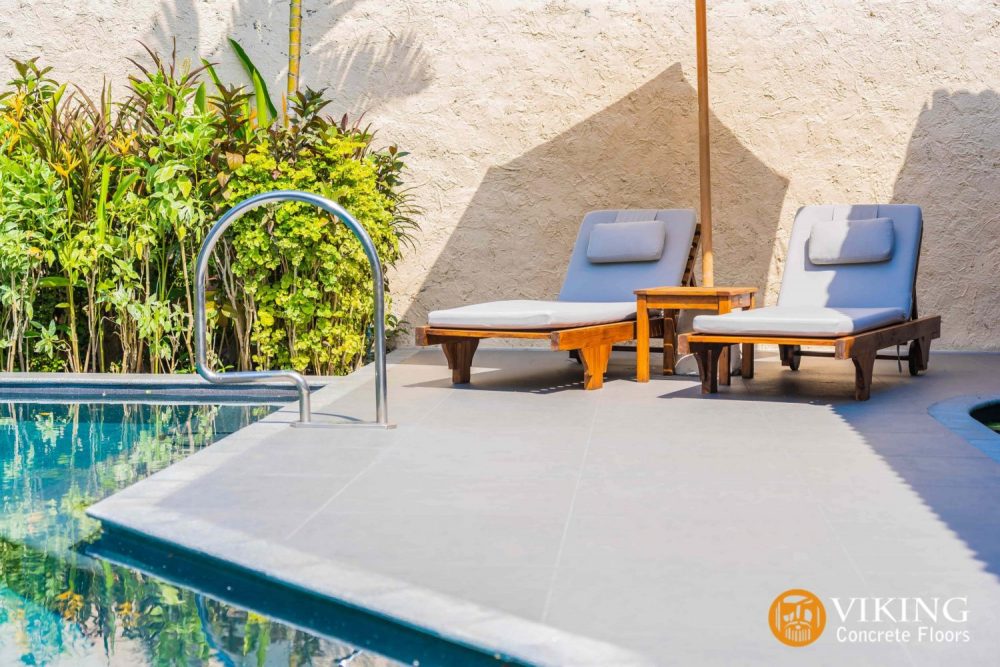 If you're thinking of installing, renovating or resurfacing a pool, you should think of the decking as much as the shape and size. The look of your pool and the surrounding atmosphere mainly depend on the pool deck you choose. You'd be surprised how much difference a deck can make over another. Additionally, if you select the wrong deck for your yard, you'll need to deal with pool repairs much more often than you would otherwise. So you should learn about them and get some cool pool deck ideas before you begin your journey. In this article, you'll find everything you need to know about pool decks so that you can choose the right one for your yard. First let's talk about what factors you should consider when choosin your pool deck.
Factors to Consider
An outdoor pool deck has different requirements than a regular patio. So consider the following factors before choosing a material for your swimming pool deck:
Slip-Resistance
If you are choosing pool deck flooring, you should consider its wet surface traction. Like concrete and masonry, several surfaces provide excellent traction when dry but become unusable in wet conditions, such as around a pool. Most flooring gets slippery when wet, which increases the risk of falls, especially for children and the elderly.
Alternatively, rubber pool decks (also known as rubberized flooring) offer excellent traction in both dry and wet conditions. This non-slip surface can also be textured for extra traction, making rubberized floor coating versatile for different locations. Make sure your pool's decking is skid-resistant, allowing everyone to have fun while remaining safe.
Heat-Resistance
Anyone who has walked across the pool deck on a sunny day will recognize the problem. A hot pool deck and bare feet are not a good combination. At the very least, it is uncomfortable. Worse, it can cause severe burns. The solution is to choose a heat-resistant floor decking material that doesn't get hot while swimming. Our cool-touch floor coating service is the best option if you want to avoid this significant problem.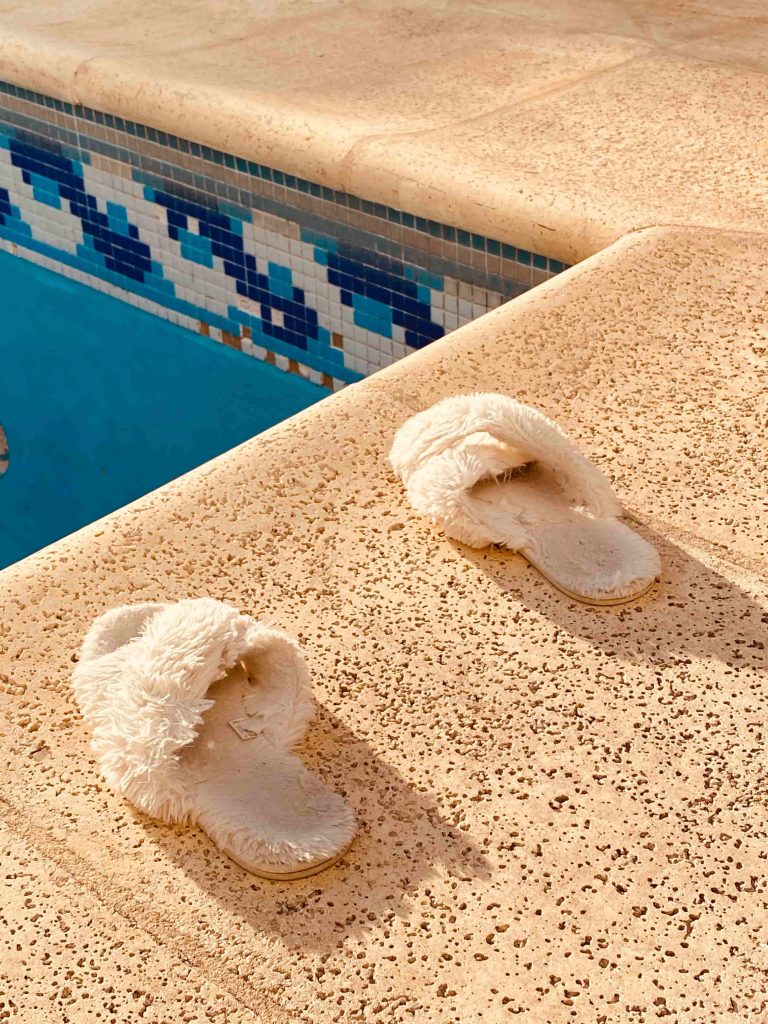 UV Resistance
Deck surfaces made from wood, concrete, and masonry are particularly susceptible to damage from ultraviolet radiation. For example, UV damage to a wooden pool deck can turn the surface gray. Although the wood appears natural and rustic, it's actually a result of UV damage to the wood fibers. Water splashing on this damaged surface will cause the wood to rot, crack, and further deteriorate. 
In the same way, harmful UV rays gradually break the bonds in concrete when left untreated. This leads to the formation of fine dust and even cracks, which weaken the integrity of the surface. In order to avoid such damage, make sure your surface is UV resistant and won't degrade under intense sunlight.
Water-Resistance
A long-lasting pool deck must be able to resist exposure to water, moisture, and harsh pool chemicals.
Low-Maintenance
This factor is no less important than the others on this list. You must choose a decking material that requires little upkeep and only occasional cleaning or resealing. In the long run, low-maintenance materials save you a lot of time, money, and effort
Varied Design Options
The material you choose is not just about its resistance but also about the design that catches your eye. It is best to choose a material that matches your style surrounding aesthetics, can take on different forms or sizes, and offers decorative treatments.
Choosing the right material for your pool deck is a balance between beauty, durability, and strength.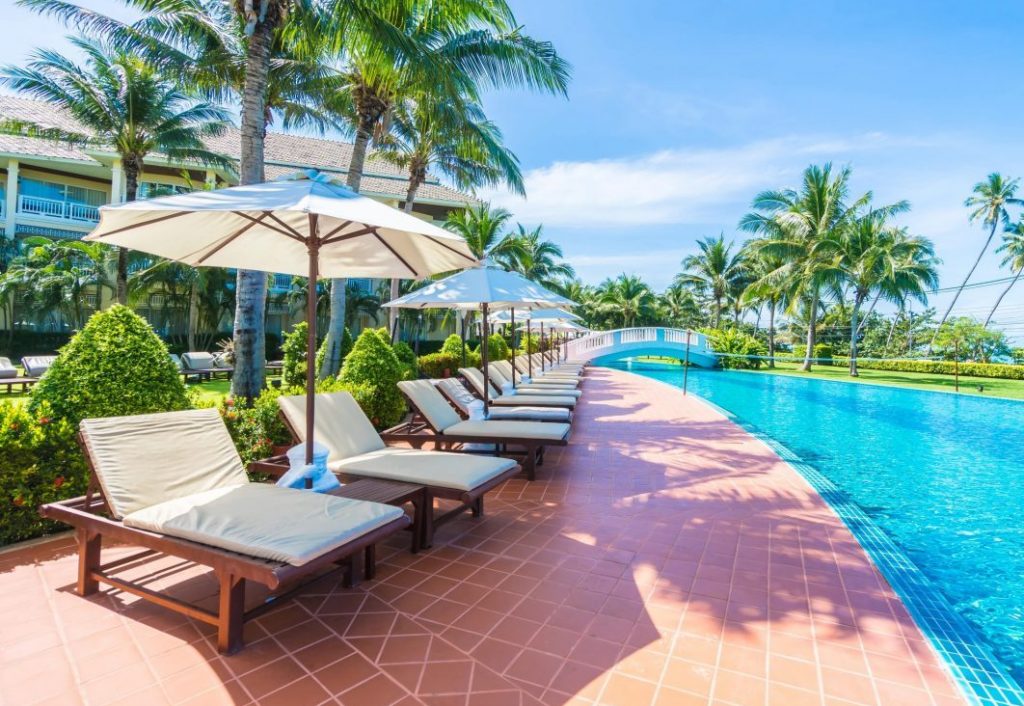 Our Top Picks
There are no other cool pool deck products that can be customized in the way that decorative concrete can. Concrete can be plain broom-finished or exposed aggregate or imprinted with a pattern that mimics tile, brick, natural stone, or even wood. You can combine different decorative techniques, such as staining concrete with a stenciled or imprinted border or adding a saw cut or engraved pattern to a colored overlay. On top of that, you can design your concrete pool deck so that it blends in with the exterior facade of your home and the surrounding landscape or make it a focal point of your backyard.
We aren't going to bore you with the details, but instead, we will highlight our top 2 picks of concrete flooring In & Near Prairieville, LA which make the perfect pool deck for your house:
Rubberized Flooring
It may seem like this is a relatively new material out there, but it has actually been around for about 70 years. Typically, it is used for playgrounds, running tracks, and splash pads. Today, it is becoming a popular pool deck coating for homeowners. A rubber deck is made from synthetic rubber mixed with a polyurethane binder. It is poured directly over the concrete slab in pool deck resurfacing jobs. Rubberized floor coating has numerous benefits. Here are some pros and cons: 
No matter how wet or snow-covered it is, it gives a non-slip surface

Rubberized flooring can move with the slab and is quite flexible

It resists cracking and freeze-thaw damage

Weeds and insects cannot grow in this seamless coating

Although it comes in a wide range of colors, it dries with a matte and dull finish

There is a distinct but subtle rubber smell to it, like most rubber materials

It takes 24-48 hours to dry
Cool-Touch Floor Coating
Using this coating on concrete pool decks is very popular. Cool Touch Floor Coating can also be used for pool deck resurfacing. In addition to pool decks, they can be used on walkways, concrete patios, entryways, and driveways. Below are some of the pros and cons:
With a spray-down application, it creates a slip-resistant texture on the deck

We customize them with score lines to match the slab's natural movement

The coating is resistant to climate changes

For a more customized look, it can be stamped and stained

Costs less than rubber decking and other pool deck resurfacing materials

Walking barefoot on the surface is comfortable and cool

There is no smell to it

Installation takes only 2-3 days
If you need help with your pool deck surface, we suggest contacting a professional flooring company. As an experienced concrete floor company in and near New Orleans and Prairieville, LA, we are familiar with the common pitfalls of pool deck resurfacing. We have the right materials and personnel to get the job done correctly. Additionally, a local company will know how weather affects product application.
At Viking Concrete Floors, we are dedicated to creating surfaces that are safe and long-lasting. Call us at (225)-313-7950 to get a free quote on your pool deck.
If this post was helpful to you, please leave us a 5star review. It would help us a lot. Thanks!
by John B