Transfer Your Garage To Home Gym By Flooring
A home gym or workout studio is no longer a luxury. These days, most homes have some kind of workout area, thanks to health and wellness awareness. Even if you don't have extra room in your home, a garage or portion of a garage can make a great workout area. If you are wondering what the best garage gym flooring would be, you have come to the right place. A garage can quickly become an amazing fitness space by simply adding an appropriate floor.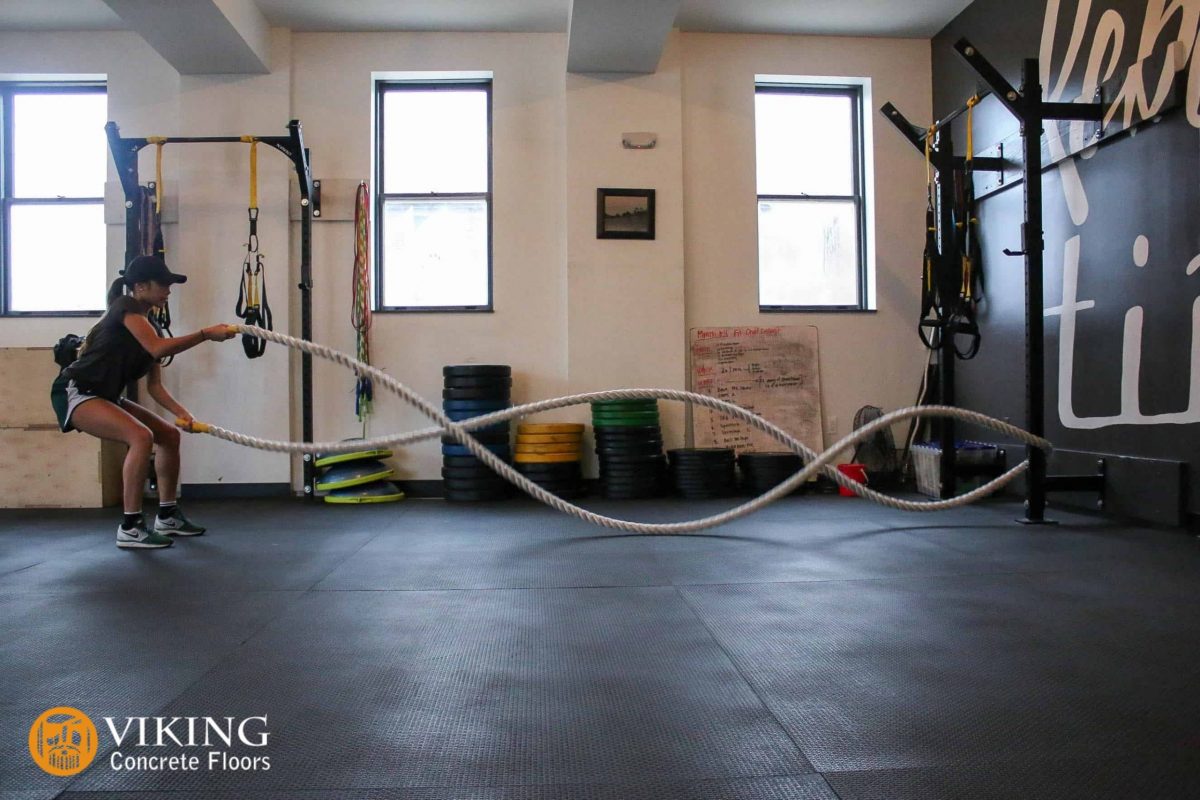 It is important to consider many factors when choosing this type of flooring. You should choose one that is durable, insulative, water-resistant and low maintenance. Depending on our client's preference, we suggest they apply a coating to their concrete flooring. Before we get into our top picks for home gym flooring, let's talk about what you should consider before choosing a garage gym flooring.
What to Consider Before Choosing Home Gym Flooring
Before marching to the store or ordering on Amazon, take a minute and try to answer these questions to see what kind of garage gym flooring would work best for you. There are many options available, and we get that it could get too overwhelming.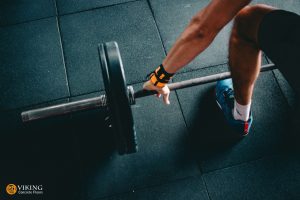 What is your training style? 
What is your sport of choice? Powerlifting or bodybuilding? Are you planning to do clean and jerks or snatches? What about high-impact aerobics? Do you plan to do floor exercises, such as Pilates?
Try to answer these questions before choosing your home gym flooring.
What is your exercise equipment?
How much weight will you put in your home gym? Will you install a power rack or cage? Will you bolt the machines to the floor? Would you add any gym equipment in the future? How much equipment are you planning on putting into your garage? 
How much is your budget? 
What is the size of the space, and how much are you spending per square foot? How much can you spend on the material and installation in total?
Other Factors to Consider
Level of moisture: Do What is the moisture level in your area? Do you sweat or spill a lot when you work out? 
Appearance: To what extent is appearance important to you? Are you all about functionality, or do you prefer a warm and bright look?
Cleaning and maintenance: Are you looking for easy-to-maintain flooring? How often will you be cleaning your garage
 gym flooring? 
Other uses for the garage: Are you planning to use the area for other purposes, such as parking the car or DIY projects?
Now that you know exactly what you're looking for choosing your garage gym flooring will be easier. In Viking Concrete Floors, we offer a wide range of flooring options, but our clients usually go with Epoxy flooring or Rubberized floor coatings when it comes to home gyms. 
Epoxy Garage Gym Flooring
This high-performance, dual-purpose paint is ideal for garage floors. As a result, it creates a floor with a long-lasting, easy-to-clean surface. Several styles and colors are available for epoxy floor coatings. Epoxy flooring adds color and shine to concrete subfloors in addition to providing extra protection. Decorative chips are usually added to the mix or sprinkled on the floor to create a unique look. Epoxy is a good choice if you use your garage for more than just your home gym, like parking the car or playing with the kids.
Concrete floors that have worn out and deteriorated can be transformed into aesthetically pleasing and functional surfaces. Epoxy floors' low maintenance and easy cleaning characteristics make them ideal for home gym flooring. Epoxy coatings are durable, hard-wearing surfaces that won't fade, scratch, or chip. Whether a floor is in good or bad condition, a professional epoxy installer can make the job seem simple.  If you have any questions about epoxy garage floors or would like to have your home gym flooring installed in Prairieville, LA, give us a call!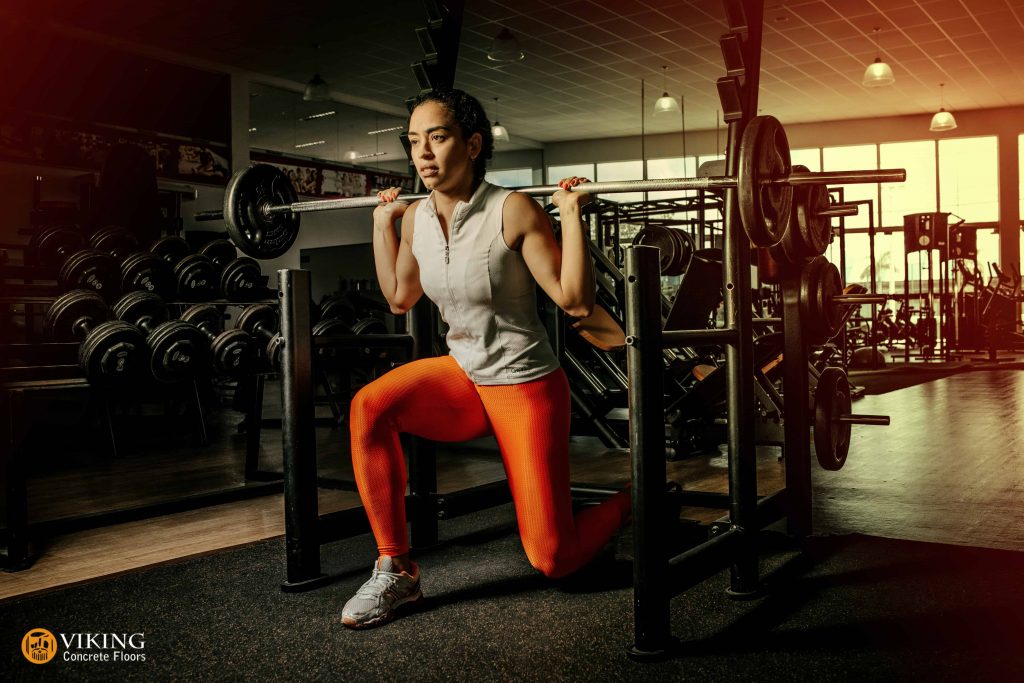 Epoxy Garage Flooring Pros:
Strong enough to be used for multiple purposes

Protects your garage subfloor

Covers up flooring imperfections

Super easy to maintain and clean

More appealing than concrete
Epoxy Garage Flooring Cons:
Slippery when wet

Not ideal for humid environments

The garage should be empty for installation

Long drying process
Whatever flooring you choose, even bare concrete flooring will require some type of cushioning to protect your subfloor and provide a comfortable surface for exercising and equipment that absorbs impact. 
Rubberized Gym Flooring:
Commercial gyms typically use them for their flooring. They are extremely durable and economical and are perfect for high-traffic areas and large spaces that see a lot of activity. When installed correctly, rubberized flooring offers an elegant seamless appearance and can complement the overall theme of your garage. While most rubberized floor coatings are black with color flecks, you can choose from a variety of designer options to give your home gym flooring a more unique and trendy appearance 
There are different thicknesses of rubberized flooring to meet different needs and requirements – thin coatings can be used for garage gym flooring, medium thicknesses are perfect for universal gyms, and thicker rolls are best for high-impact activities like powerlifting and other high impact activities.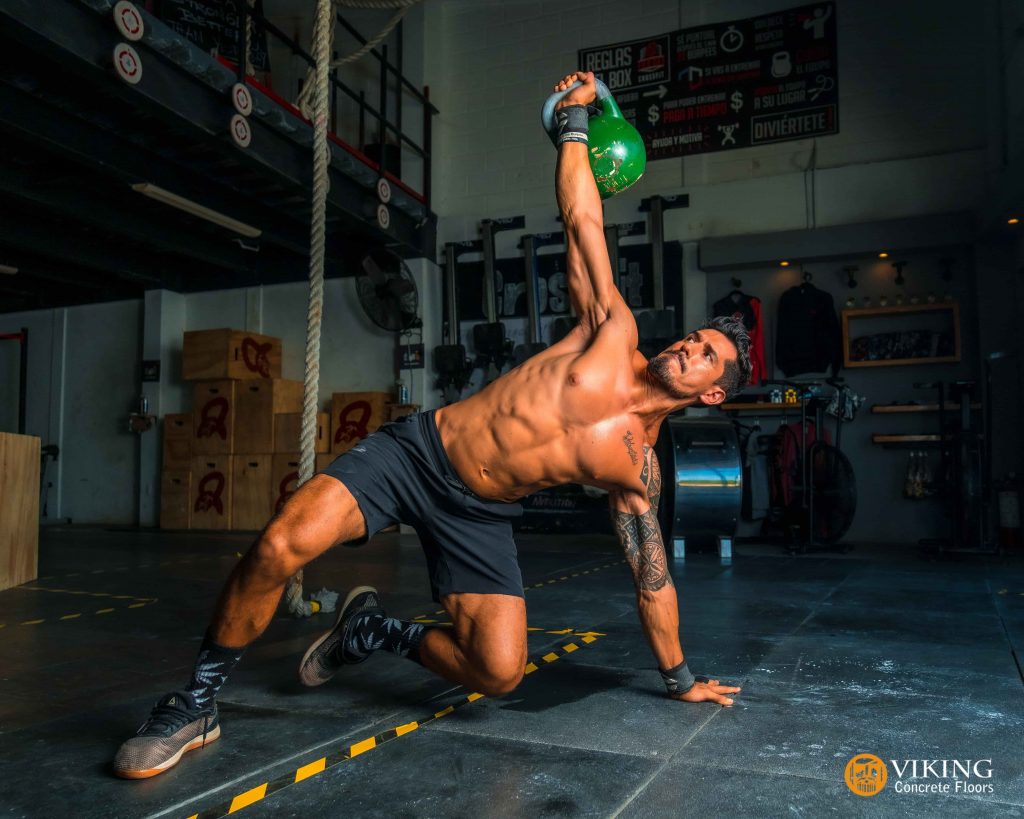 Rubberized Flooring Pros:
Rubberized Flooring Cons:
More expensive than epoxy

Heavy, making it difficult to move

Potential smell, as it's made from petroleum
Need Help For Gym Flooring?
We guarantee your satisfaction at Viking Concrete Floors. With our experience and expertise, you will have a fitness-friendly, home gym flooring that looks cool and protects your joints at the same time. We offer other concrete flooring solutions like cool touch floor coating in addition to garage gym flooring. We are happy to help you with all of your flooring needs, so if you're looking for a concrete flooring company in & near New Orleans And Prairieville, LA, consider us. Give us a call and transfer your garage into a home gym. Fill the form below or Call now at (225)-313-7950 for our flooring services!
If this post was helpful to you, please leave us a 5star review. It would help us a lot. Thanks!
by John B