Concrete Floors for Kitchen
Are you looking for the most ideal flooring material for your kitchen? If you are, read on to find out why concrete floors are the best.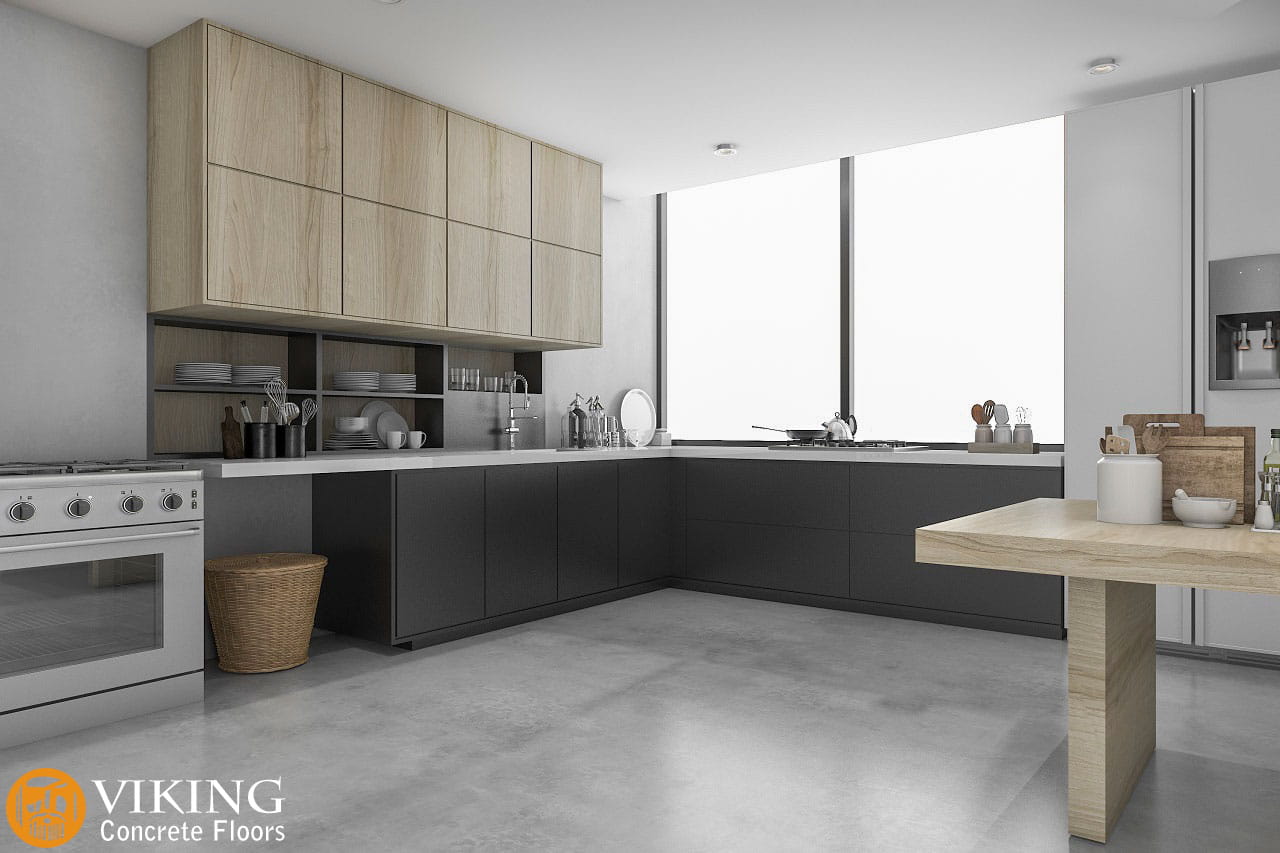 Over the last few years, flooring materials have come a long way. No matter what room you want the flooring for, there are multiple options to choose from. If you are planning to install flooring in your kitchen, you need to keep the specific needs of this space in mind. A kitchen is the place where cooking and food preparation are carried out on a daily basis. Lots of cooking turns the kitchen into a dirty and messy space. People cook, eat and hang out with friends in the kitchen. Considering the needs of a kitchen, concrete floors are the most suitable option for a number of reasons. Below, we will discuss why concrete flooring is best for the kitchen, the pros and cons of this material and the color and design options.
What is Concrete Flooring?
Concrete flooring is a type of solid material which is made up of natural substances including cement, stones and water.
The function of cement is to bind the materials together. That is why it is commonly known as binder. When it comes to binder, three types of materials are used. These include Portland cement, slag cement and fly ash. The next important substance which makes up concrete is filler. Usually, river stones or gravel are used as fillers. Many times, crushed glass is also used as filler. The binder and the filler are mixed together and water is added. This is how concrete material is prepared and laid down in the form of hard and solid flooring.
Why You Should Install Concrete in the Kitchen
Professionals suggest concrete as the best material for flooring
in the kitchen. There are clear and solid reasons for installing this product. Given below are some of the most important benefits of concrete.
Durability:
The biggest reason for laying down concrete in a kitchen is that this product is very hard and long-lasting. The kitchen needs a floor which can tolerate almost anything. Concrete fits this criteria best of all. Of course, the ultimate durability of the material depends on how the construction is carried out and the quality of the subfloor. This type of floor will last for many deca
des in a row, without getting damaged or showing signs of damage.
If a piece of crockery falls on the concrete floor, the object will break while the floor will remain safe and undamaged or unbroken.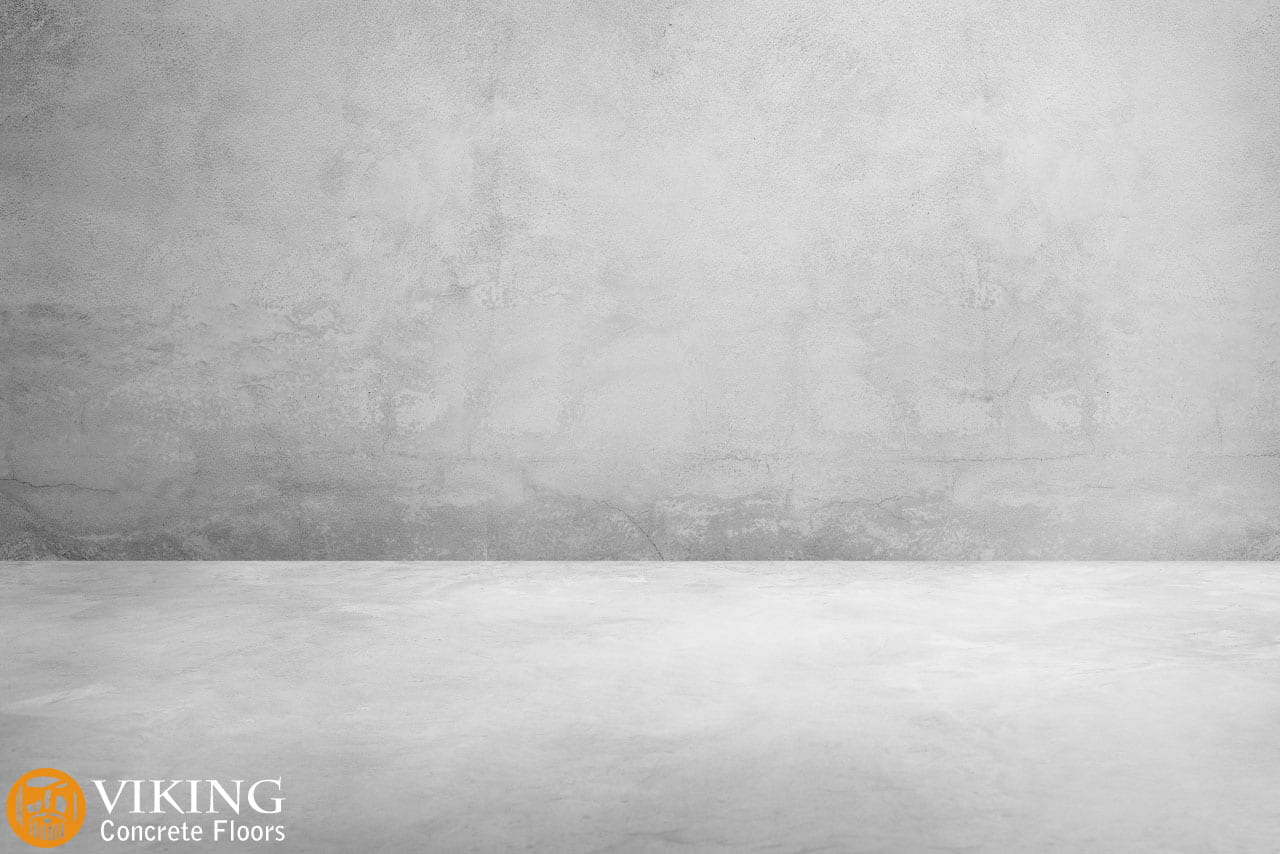 Water Resistance:
Concrete floors are ideal because they are resistant to water. If you spill water on the floor and it stays there for many hours, there will be zero damage. All you need to do is mop the floor and the water or moisture will go away. The product will remain intact in its quality.
To keep your kitchen floor fully water-resistant, you should ensure that sealants are properly used during the installation.
Ideal for Pets:
Concrete floors are the perfect choice for those homeowners who have pets. Dogs and cats like to move, jump and play around. Your pets can do whatever they like. Be confident that their claw marks will not scratch or harm the concrete kitchen floor in the least. In many other materials, the claw marks of pets become an issue for the homeowner.
Affordable:
Flooring materials come in a wide range of prices. Based on your budget, you can choose expensive or low-priced products. When it comes to concrete flooring, you don't have to worry about budget. This type of floor is affordable for every homeowner. You can always have these floors installed within the budget you have planned for your kitchen.
Multiple Designs:
Don't think that concrete floors have few colors and designs. Thanks to the latest techniques and methods, you can create a broad range of attractive and colorful designs in your concrete flooring. Provided you hire experienced professionals, you can have them design your floors exactly as you want to match the overall look and style of your house. You can select from an array of eye-catching traditional, modern and rustic styles and designs.
Expert installers know how to combine multiple advanced techniques at a time to achieve a unique look for your kitchen floor.
Tips to Manage Your Kitchen Floor
Unlike other floors, concrete floors require only a minimum amount of care. If you just keep the kitchen floor clean by sweeping and mopping it, you can expect the material to remain in excellent shape for a long time.
Since the concrete floor in your kitchen has a specific design, it is a good idea to protect it from any kind of harsh chemicals. Sweeping, mopping and vacuuming are adequate to maintain the quality of the floor. Remember to not use any cleaning tool, product or equipment which can damage the polish or shine of the surface. Avoid using detergent for cleaning, as the remainder can stain the floor. Mop the floor with a soft piece of cloth and you will have it shining for several years in a row. You don't need vinegar, citrus or other chemicals for cleaning.
If you have too much work on your hands, you can also call in professional cleaners for the management of your kitchen floor. Otherwise, DIY cleaning should be enough for the kitchen floor maintenance.
Ideas for Kitchen Concrete Flooring
There are many ideas you can use to customize your kitchen concrete flooring. This manual customization will give your kitchen an elegant and beautiful look, while enhancing the overall home decor. Below are some good ideas that can help you achieve a look that you desire for.
Color Pigmentation:
Many homeowners adore colorful surfaces. If you wish to have colored kitchen flooring, you can add tint to the flooring material. Adding the tint to the concrete will help you create a
particular look for your kitchen area. The installer will add a tint that you choose for the floor.
Staining:
Staining is a popular method of coloring the concrete floor. A stain is a solution which is composed of water, acid and inorganic salts. Generally, this process is known as acid-staining. Experts apply the solution on to the concrete floor for a chemical reaction to happen. As a result of the reaction, the floor gets a beautiful and permanent color.
Metallic Coating:

Modern technology has given rise to a wide range of innovative and advanced techniques. After the installation of concrete, epoxy coating with metallic flakes is applied to enhance the beauty
of the floor. It can also create a 3D type appearance on the floor.
Stamping:
Stamping is one of the simplest ways to create elegant and attractive designs on the installed flooring mixture. Give the flooring material enough time to dry up. Using multiple types of stamping tools, floor installers can create a variety of design patterns as per your taste.
Concrete Kitchen Floor Installation
Installation of concrete floors is a big task, which can take up days and weeks. The deadline for laying it down depends on whether the installation is ordinary or it involves detailed design work.
If you are redesigning the kitchen floor, the old floor will first need to be removed. If this is the case, you should add a couple more days to the project deadline. After the floor has been properly installed, the technician will design it using one of the several ways and techniques. As per your design needs, you can choose color pigmentation, metallic coating, acid staining etc. Stamping or embedding of the floor should be done on the same day concrete is laid down. Acid staining of the kitchen floor is a procedure which takes some more time. If it is only one-color staining, two days will be required to get it done. For multicolor staining, the technician will need 4-5 days to complete and give finishing touches. So, how many days will the installation and design take depends on what exactly you plan to achieve.
Planning to Install Concrete in Your Kitchen?
Whether you want to replace an old kitchen floor or install flooring in a newly setup kitchen, concrete is the top choice. Today, concrete doesn't mean just old-school plain and absolute gray. Instead, this type of flooring can be installed and designed in a broad range of attractive looks.
If you want a unique and highly resilient kitchen floor, you should head straight to Viking Concrete Floors in Prairieville, LA.
We specialize in installing the best quality of concrete flooring for all kinds of kitchens, big and small in our  Concrete Flooring Company In & Near Prairieville. Our expert artisans carry out each installation with precision and a great eye for detail. If you compare our product quality, workmanship and warranty with other companies, you will find our pricing to be the most competitive. Fill the form below or Give us a call at (225)-313-7950 Now!
If this post was helpful to you, please leave us a 5star review. It would help us a lot. Thanks!
by John B