Why Should Gyms Use Concrete Floor Under Their Rubber Mats?
Flooring is a crucial thing to consider when you want to start an exercise facility. It is the basis of your place, and choosing the correct gym flooring adds to the beauty of your facility. If you select the best gym flooring, the functionality of your business will grow, and more success will come to you. Some standard floorings like wood or tile are not appropriate for the gym due to the high level of wear and tear. There are various heavy weights at the gym, and a durable type of flooring is required. Concrete flooring provides durability. It is also customizable and budget-friendly, making it the best choice for your gym.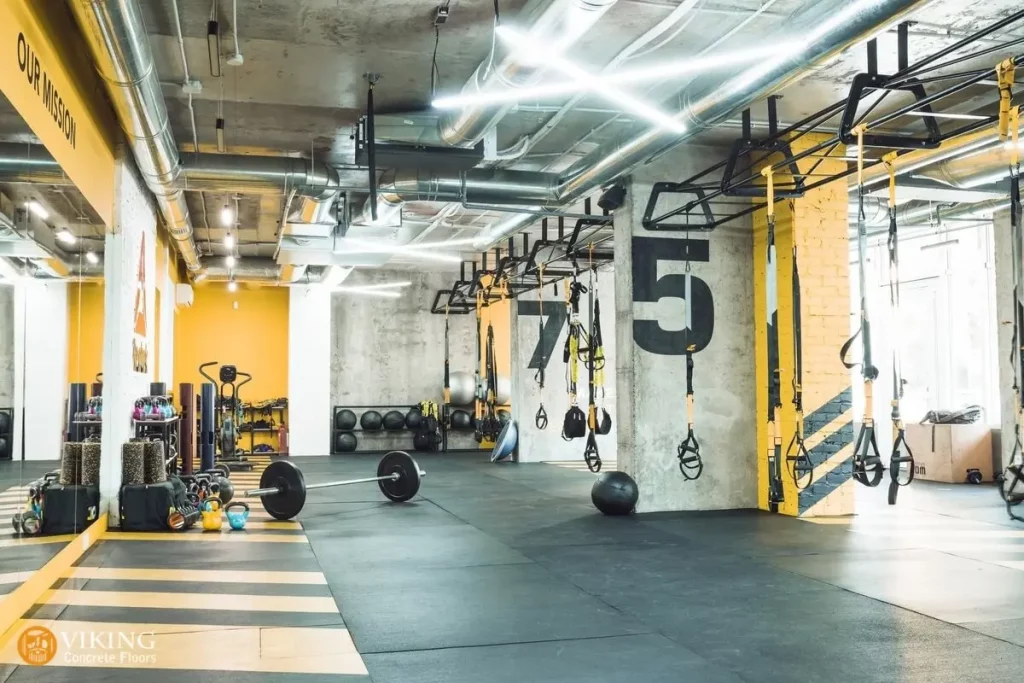 Some Benefits of Concrete Flooring for Gyms
Many gyms choose concrete floors due to features like durability and elegance. It is also low-maintenance, and gyms won't have trouble keeping it clean and tidy. Concrete is a cost-effective choice for gyms, and they can install it at lower costs than other flooring types. Durability is the primary feature of concrete floors that gym owners will consider; it is a crucial feature, especially in places with equipment installation. Concrete is the best option under rubber mats.
Concrete is fully customizable, and you can design it in various colors and textures. Gym owners can use concrete to showcase their branding. The beauty and elegance of concrete can be outstanding and appealing. If you install concrete for your fitness center, you will have multiple choices, like epoxy, stained, or polished.
Concrete is maintenance-free and easy cleaning is one of its primary benefits. Effortless cleaning is an essential feature for gyms because they are crowded and require regular cleaning. When the concrete floor is sealed correctly, it will be impervious to germs and stains, which is a significant advantage. Regular cleaning is necessary to maintain the quality and appearance of your concrete.
Concrete floors are the best option if you are starting your business and it is new. They are affordable and less expensive than other flooring options. Concrete doesn't require much maintenance, unlike other flooring options like tile or hardwood. It will save you cost, and it can be a flooring type for a lifetime if installed properly. Budget is essential for a new business, and fortunately, concrete is budget-friendly.
Are you looking for a new flooring in & near Prairieville, LA? Our concrete flooring company is the best option. At Viking Concrete Floors, we are committed to providing high-quality services to our customers. Concrete contractors provide you with the best ideas for your project. We have knowledgeable professionals who explain everything about concrete floor pros and cons and help you make the best decision. Years of experience and hard work make us one of a kind in the flooring industry. Everything is prepared for you to get the best services. Contact us to join a revolution in flooring!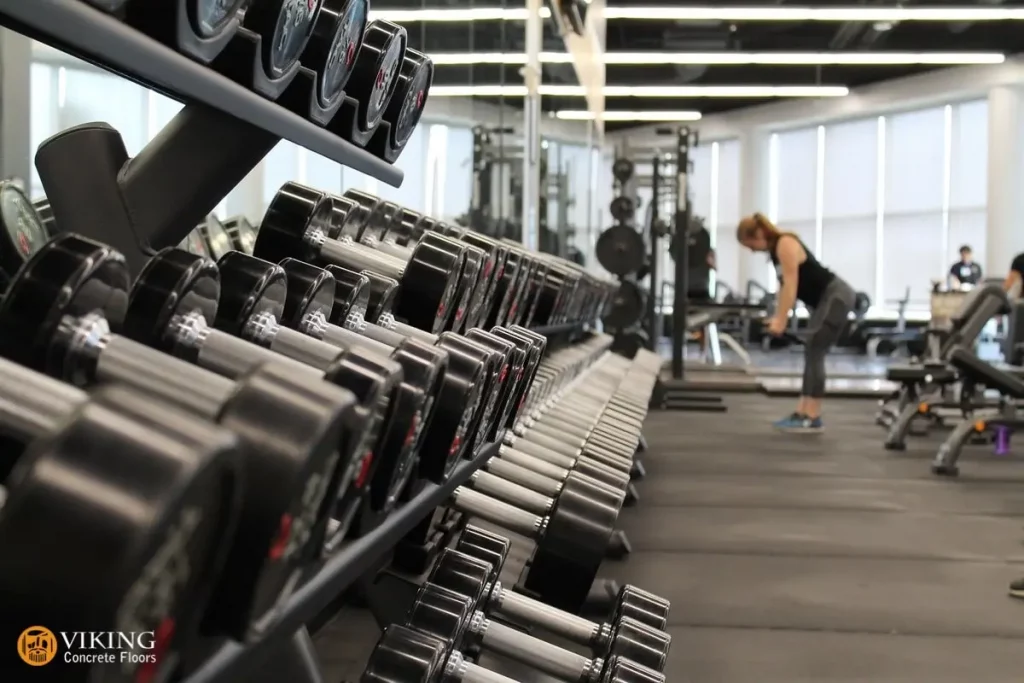 Concrete Flooring VS. Other Options
If you want to choose a type of flooring for your gym, various options like tile, carpet, concrete, and hardwood are available. You can quickly assess the benefits of concrete over the other options and make the best decision. Concrete installation is easy and trouble-free if professionals do it. Proper treatment will help concrete stay for a long time. The durability and abrasion resistance of concrete are two of its main characteristics. Things like carpet and tile will finally wear out, and you need to replace these options.
Concrete requires less maintenance, and it is in excellent condition. If you choose other flooring options, you must always deal with damaged flooring in your fitness center. Concrete is also environmentally-friendly, and it removes things like harmful chemicals or adhesives. So, it is a greener choice over other options. High quality, lower maintenance cost, durability, and customizability are some of the essential benefits of concrete for your gym floor.
Affordability is a Key Factor for New Businesses
When you start a new business, various challenges are in front of you. Choosing the best flooring option is one of these challenges. Many new companies can't install a costly floor. Concrete can help businesses in this regard because it is much cheaper than other options. It is also customizable, and you can design it according to your brand and requirements.
Multiple colors and textures are available for concrete floors, and you can easily figure out your favorite choice. Business owners can design their logo on concrete and implement their marketing strategy through it. Concrete saves a considerable budget for new businesses, and these companies can spend this budget on their infrastructure or marketing.
Concrete flooring is simple, and simplicity is the beauty. It doesn't require much maintenance cost in the long run and is another economic incentive for new businesses. The good news is concrete floors last forever if they are installed properly. Therefore, you will not need to replace them after a while, saving you more money.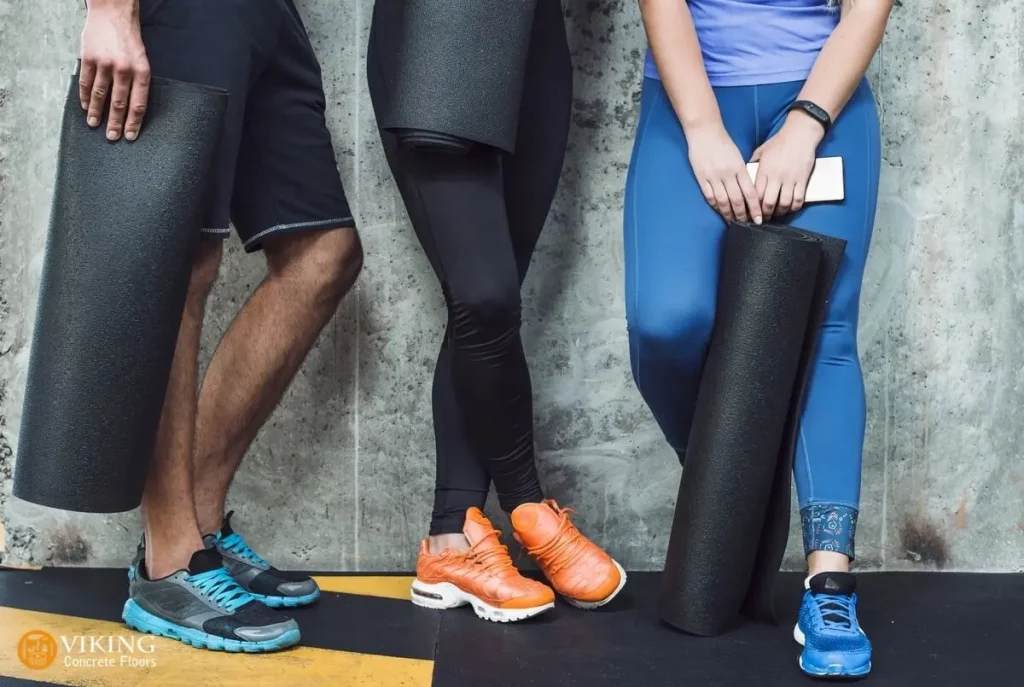 Don't Ignore Using a Professional Flooring Company
Are you considering concrete flooring in & near Prairieville, LA? Our company is the solution. We offer various quality floor installation services. Our professionals are with you through the entire floor installation process. We are experienced and knowledgeable to meet the requirements of your fitness center. Our experts offer the most beautiful design for your business. Concrete offers various flooring options. Years of experience make us outstanding. Our revolutionary approach to flooring is unique and in line with current trends. Our history is a telltale sign of our performance, and it confirms the reliability of our company. Customer satisfaction is our ultimate goal, and we do whatever we can to achieve that. Contact us now and get the fabulous services you've never experienced before!
If this post was helpful to you, please leave us a 5star review. It would help us a lot. Thanks!
by John B.