7 Reasons to Choose Concrete Floors for Your Entryways
Concrete flooring is a low-maintenance type of flooring ideal for front door entrances. Front door entry is essential to your home with heavy foot traffic. Concrete is durable and long-lasting and can also be in various designs and colors. It can bring a touch of elegance to your entryways. In this article, we'll discuss the benefits that make concrete an ideal choice for your home entrance.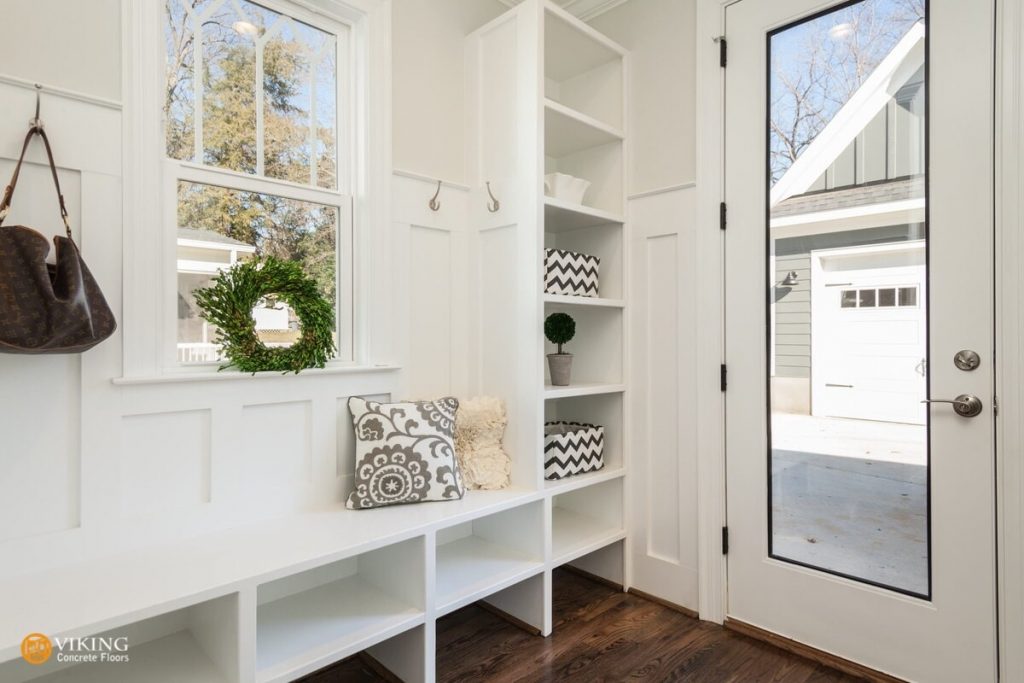 Are you looking for the best entryway flooring ideas? Are you considering concrete flooring in & near Prairieville, LA? Our concrete flooring company is the right choice. Viking Concrete Floors can give you the best entryway floor ideas. Our concrete contractors can guide you about the best flooring for entryways. If you want further information about concrete flooring pros and cons, our professionals are eager to help and provide consultancy for you. The best entryway floor ideas are ours due to years of experience and qualified experts in our team. Call us immediately to join a revolution in flooring!
1- Concrete Floors Are Sustainable
A concrete floor is a sustainable option that helps you avoid the consumption of many other materials. Sustainability is the primary feature of entryway flooring due to the high level of foot traffic. Fortunately, concrete can come in a wide range of colors and designs to satisfy individuals with different tastes. Pretty furnishing and textures can be added to concrete, a decorative entryway. Concrete can be the answer to whether you like your front door entrance in a traditional or modern way.
2- Easy Cleaning
Concrete is low maintenance, and its cleaning is quick and effortless. It is a crucial feature for entrances because the traffic is high and cleaning must be done regularly. Weekly mopping with soapy water is the only thing you need to do for a clean and shiny floor. Installing a baseboard along the concrete floor is recommended because it can facilitate cleaning. A dirty mop might leave dirt in crevices where walls and floor meet, so a baseboard will help resolve the issue.
Easy cleaning is an essential feature of today's world because people are busy these days and don't have enough time for many cleanings. Some other floors are really time-consuming to clean. Concrete will save you time and energy, a beneficial characteristic for the contemporary world.
3- The Longevity of Concrete Floors Is High
You can expect a polished and well-installed concrete floor to last a lifetime. This feature is ideal for entryways because it is challenging to repair them. When you install an appropriate concrete floor on your front door entrance, you will have peace of mind and not worry about maintenance costs or similar issues.
If you are looking for concrete flooring in & near Prairieville, LA, our company is the best available option. Our professionals have enough knowledge and experience to help you through the entire flooring process. We are unique in the industry due to our years of experience combined with our knowledgeable teammates. We do our best to satisfy our esteemed customers because we consider our clients the proper investment of the company. Call us now to experience our quality services!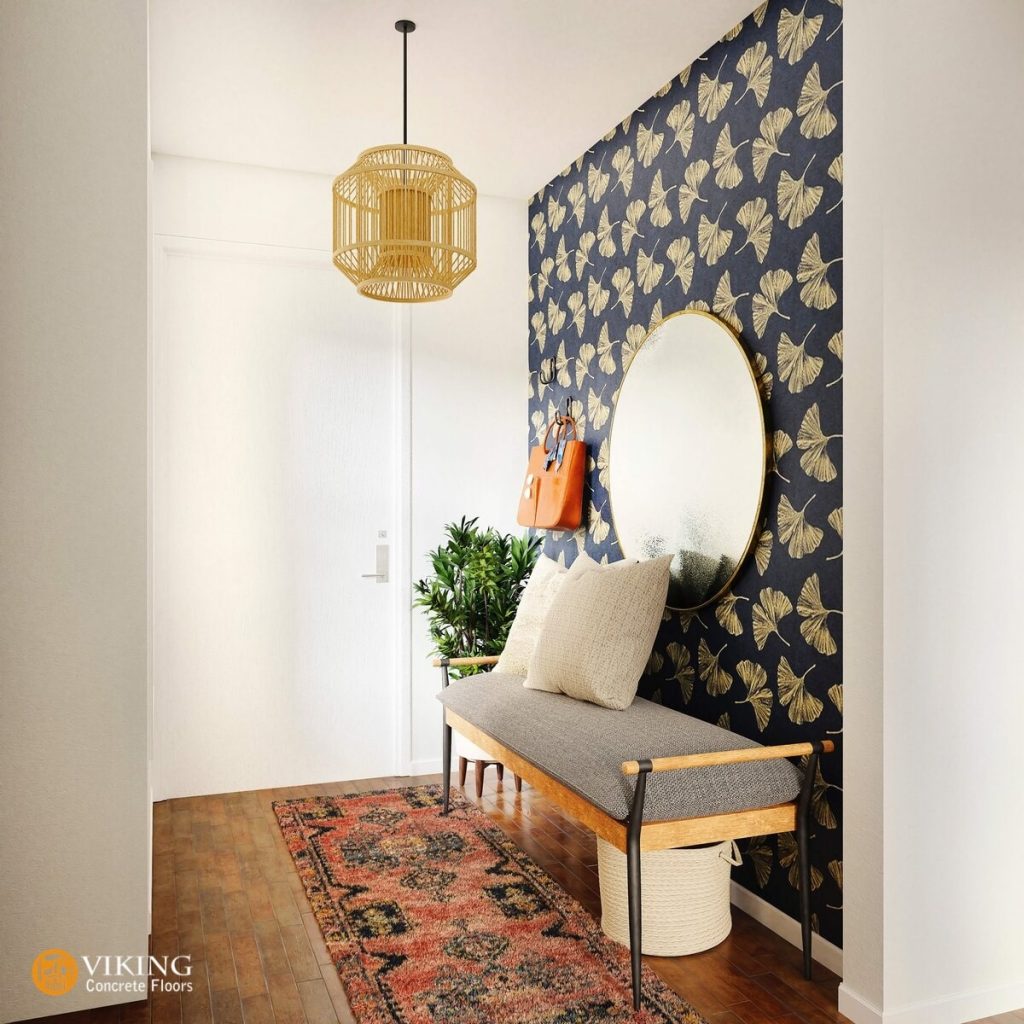 4- Concrete Is Jack of All Trades
The versatility of concrete floors is another beneficial characteristic to consider. Concrete has various applications so that it can meet the expectations of individuals for their front door entries. Concrete is an appropriate type of flooring for transitions, and this flexibility means the ability to meet numerous needs. Whether your area is rustic or urban, concrete floors can look appealing.
5- Water Resistance
As we mentioned earlier, entryways must be cleaned regularly due to getting scuffed and kicked by shoes that are regularly entering and exiting your residential place. So, cleaning and washing are constant needs for such an area. Moisture can quickly damage your floor if it is not resistant enough. Concrete is a waterproof option that can extend the life and look of your floor.
6- Aesthetics Is Vital
Although beauty is not everything, and you need to pay attention to features like durability more, an appealing and beautiful entrance floor can make an impression. This is because it is the first place an individual sets foot inside your building. Concrete has functional characteristics along with aesthetic features. You can make the concrete floor more appealing and polished via various techniques.
7- Cost and Affordability
Price is always an essential factor in installing the type of floor. The entryways are not exceptional, and you need something affordable. Fortunately, concrete is one of the most affordable choices compared to other types of flooring. Concrete will end up spending less in the long run; therefore, concrete flooring is among the reasonable choices.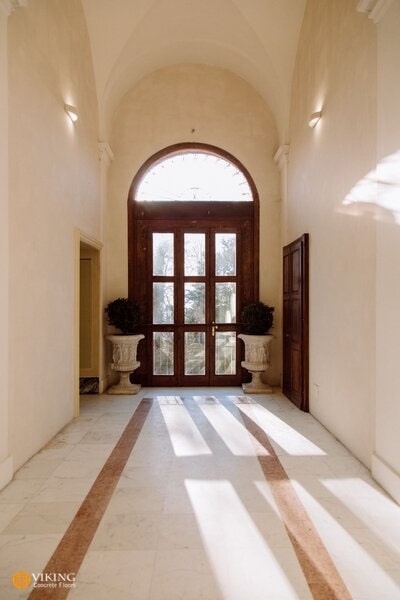 Concrete Floor is the Recent Trend for Entryways
Concrete flooring is the latest trend for front door entries, and this trend is gaining more and more steam. It is ideal for residential décor due to its numerous colors and designs. Concrete is an ideal option for front door entrances due to its durability and ease of cleaning. There are various textures and subtle stains that you can apply to your concrete floor to make it more attractive. Concrete can give the look of hardwood with other additional benefits. It is waterproof and budget-friendly.
If you have questions about choosing the right floor for your entryway, our experts in Viking Concrete Floors are eager to help. Our history is a telltale sign of our performance. If you are searching for concrete flooring in & near Prairieville, LA, our company is what you are looking for. Our top-quality services are exclusive. Our teammates are friendly enough to explain any issue to you. So, if you have any questions, don't hesitate to talk to our professionals. Experience and knowledge are the essential components that distinguish us in the industry. Call us at 225-313-7950 right away to achieve the best flooring ideas!
If this post was helpful to you, please leave us a 5star review. It would help us a lot. Thanks!
by John B.