Concrete Flooring Option for Wet Areas
We never think of fancy floors for wet areas because we know these areas are sensitive, and an appropriate type of flooring is essential. Concrete flooring is a proper one for these areas. Concrete has passed its test over time and has confirmed itself for wet places. Traditionally, concrete floors are concealed by coverings like timber. These covers are expensive, and they have a high cost of maintenance. In many cases, surfaces will be destroyed after a while, and the original concrete will remain.
If you are considering concrete flooring in & near Prairieville, LA, our concrete flooring company is the best. We provide high-quality services due to the experience and knowledge of our experts. We provide the best type of flooring that you've ever seen. Call us at 225-313-7950 right now to join the transformation of flooring!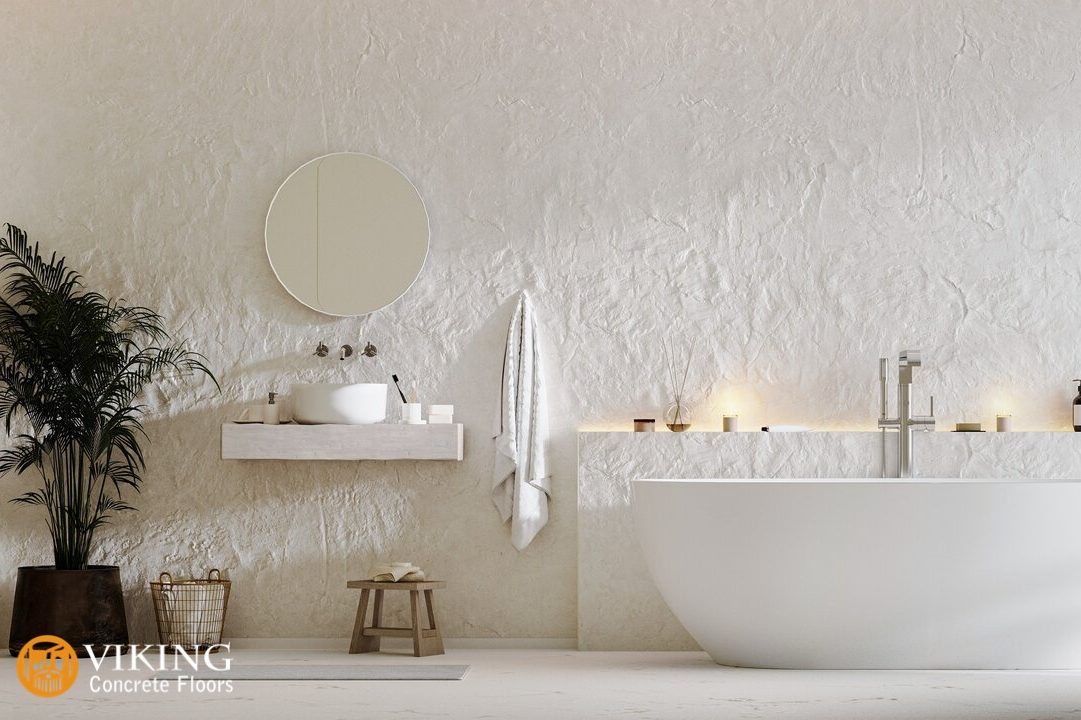 Do the Wet Areas Need Concrete Floors?
Polish concrete flooring is miraculously appropriate for wet areas. Most traditional concretes are gray, but it is not necessary to always be gray. There are various colors and designs for concrete that you can use in areas with a high degree of moisture. You can utilize concrete to create a warm and colorful bathroom or toilet. If you want to build or renovate flooring for one of the wet areas of your building, concrete polishing is the right choice due to characteristics like high-gloss and low maintenance cost. Experts can add some other layers to the concrete that is very helpful and makes the flooring durable and long-lasting. You can hone down your flooring surface and provide traction for it. Although the initial cost for concrete artisans' designs is high, the durability of polishing will offset that.
Skid-Resistance Property
Polished concretes look like glass, but if you keep them clean and dry, everyone can safely walk on them. Skid-resistance property is one of the main characteristics of this type of flooring. When the polished concrete is wet, it can be slippery but less than the other types of hard floors. Concrete Polishers Association of America (CPAA) undertook a series of tests to determine the slippery degree of different types of hard floors. They found out that polished concrete is among the safest ones. So, customers can use this type of floor with peace of mind. It is one of the best choices for your wet home area.
Start with Waterproofing
Before installing concrete floors in the wet areas of your building, moisture prevention is a must-be. A proper waterproof must be done to prevent water transfer and retention. You must do the waterproofing process precisely because it is a required prudent step to be done.
Concrete Capers for Wet Home Areas
Many people aspire to bring a peaceable look to their houses. A plaster finish can be helpful for this purpose, and you can use that in areas like laundry walls. It can be brushed and evened and made to look like polished concrete.

Consider the outstanding contrast of ochre-colored developed pebble aggregate shower flooring compared to all-white glass and walls of the encircled recess.

Fixtures like toilet seats suspended above the area of polished concrete impact the feeling of making more space for an urban outlook that expresses industrial care.
 Our concrete floor company provides the best services. We are experienced and skillful. Our experts have the required knowledge and understanding to make your houses different. We bring glamor and charm to your buildings. Feel free to try our flooring services and call us right now!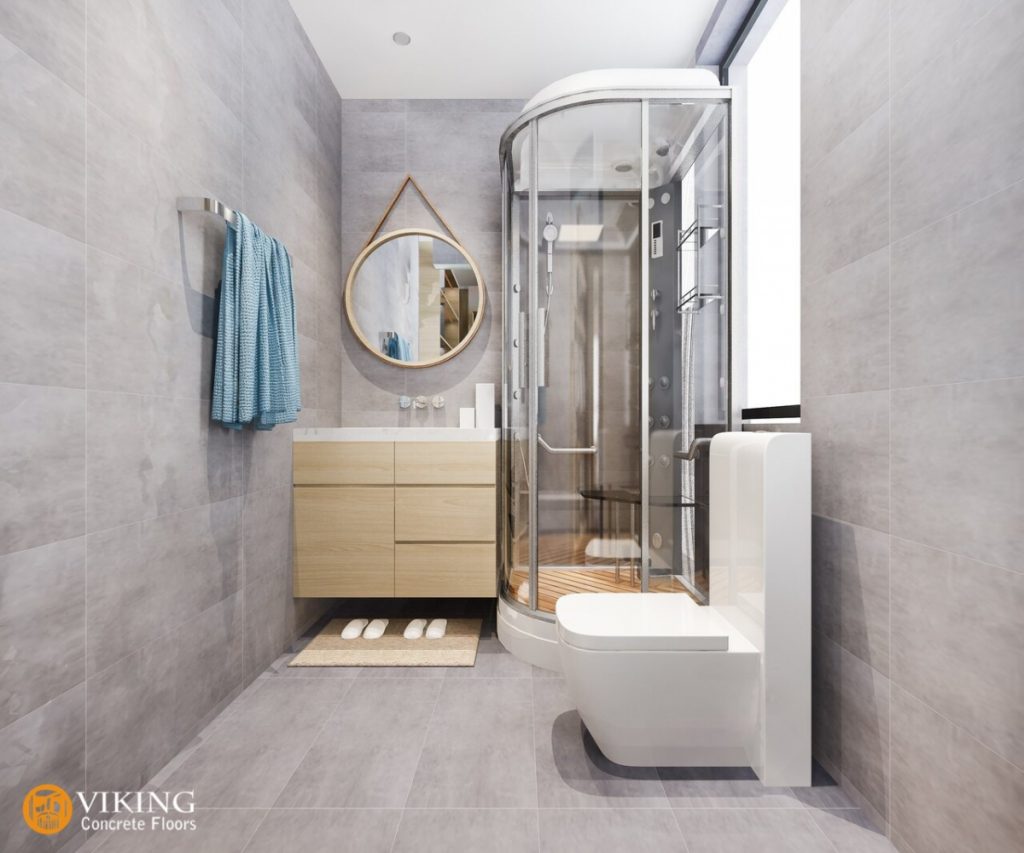 Advantages of Concrete Floors for Wet Areas Like Bathrooms
Although the concrete is stark and industrial, modern design trends make it a suitable choice for wet areas, and there's no doubt about it. The advantages of concrete for damp places like bathrooms and toilets are evident. Here are some of the benefits of concrete for these areas:
Impenetrable to Water
Water can't harm a concrete type of flooring. It means you won't be worried about water sprays, spills from the tub, or similar issues. Concrete is impervious to water, but water can go through the cracks to the beneath level when it has gaps. It can be problematic when underneath are materials like cement. Thus, it is crucial to constantly look for cracks in your concrete and patch them when they appear.
Long-Lasting and Durable
Professional installers usually guarantee their concrete for 20 years, but if you care for them well, these floors can last for the entire building age. So, concrete is trouble-free, and it is not imperative to replace it after some years.
Cost-Effectivity
You can install polished concretes with elaborate coloring and stamping treatments with a reasonable price. Compare the price with other types of flooring to get the difference. Sometimes, structural support is required for some locations; here, you have to pay an extra cost. Polished concretes are incredibly cost-effective because they can have longevity as long as the lifespan of the building. It is an essential characteristic of today's world due to the deplorable economic situation of many people.
Easy to Clean
Concrete is excellent for cleaning and maintenance. Polished concretes can bring peace of mind if you have little kids or pets. Periodic sealing is the only required maintenance for concretes, preventing stains. You can clean these floors as much as you want. They are appropriate for sweeping, vacuuming, or using wet or dry mops. Some floors, like carpets, are not easy to clean, and regular cleaning makes wear and tear. If you give your house to cleaning agents, be careful about the chemicals they use because some of these materials can cause discoloration.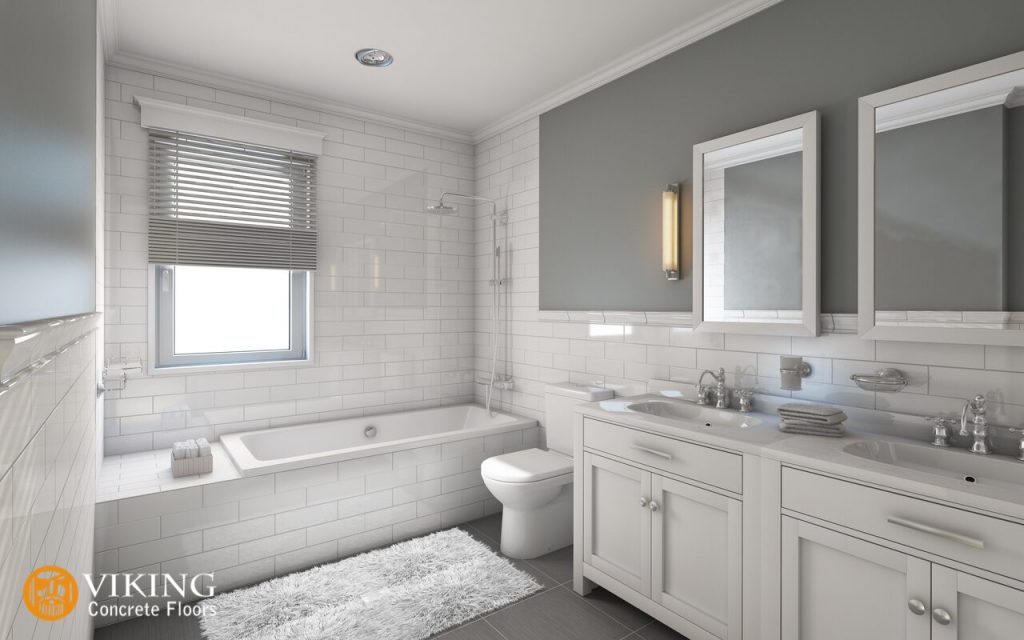 Let's Get in Touch!
Concrete flooring is one of the best options for wet places like bathrooms or kitchens. Some of the advantages of polished concrete are mentioned above. The benefits make this floor an appropriate choice for wet home areas.
Are you looking for concrete flooring in & near Prairieville, LA? We have the best concrete flooring company. Our history is a telltale sign of our performance. We do everything to keep our esteemed customers satisfied. Call us at 225-313-7950 right now to join a revolution in flooring!
If this post was helpful to you, please leave us a 5star review. It would help us a lot. Thanks!
by John B.