Concrete Flooring In The Laundry Room
Laundry room flooring is essential, and it needs durable and long-lasting materials. This sort of concrete flooring must be waterproof and easy to clean. If you are thinking about the best flooring for the laundry room, epoxy and rubber flooring are two of the best available options, and they have a lot of advantages over the other types of flooring. We are one of the best concrete flooring companies in Prairieville, LA, that offers amazing flooring services. If you have any inquiries regarding the flooring process of your laundry room, our experts are ready to give you help and consultancy. Call us right away at (225)-313-7950!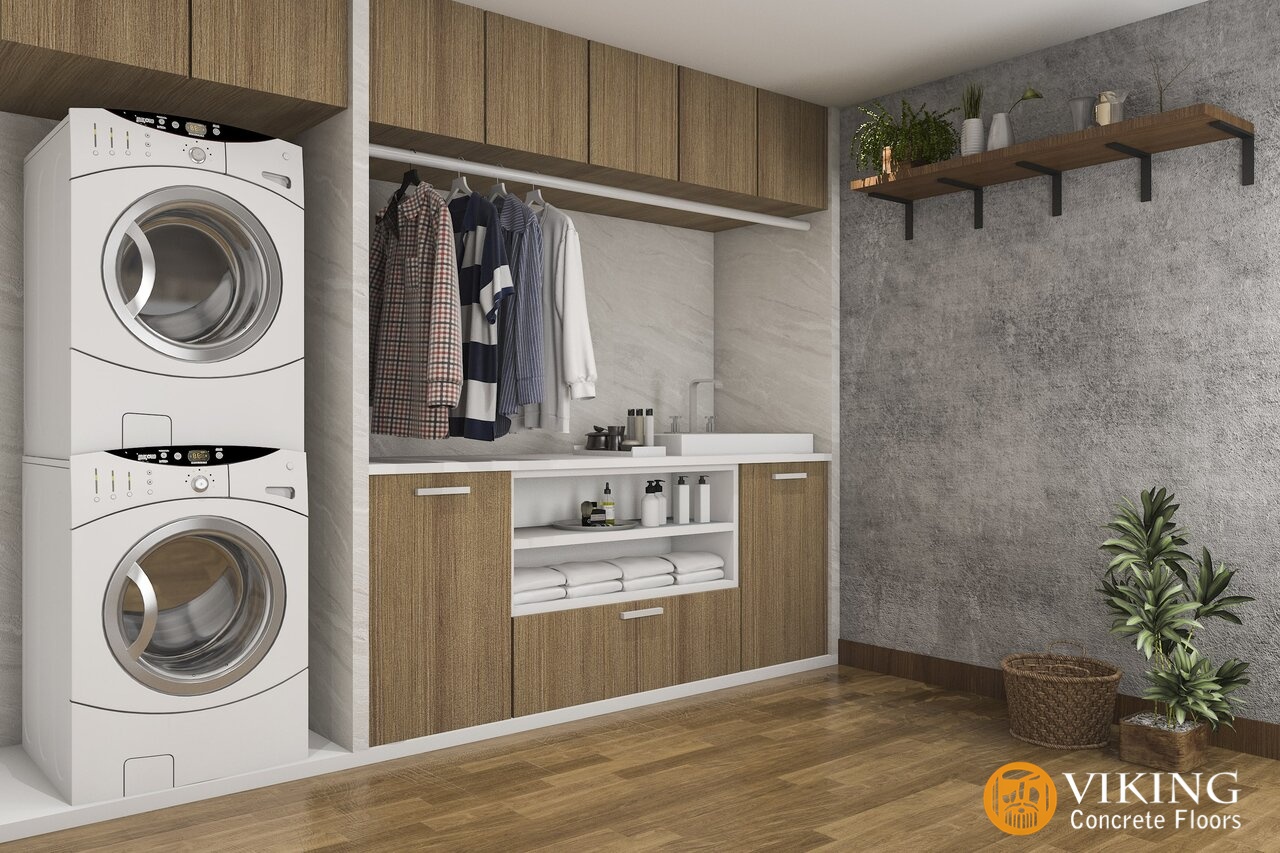 What are some considerations for laundry room flooring? 
Due to the ever-lasting presence of water in laundry rooms, dampness is a severe concern for flooring. There are many emergencies like the overflow of the washing machine that causes water to flow in the laundry room. 
Another unavoidable trouble is  a clogged drainpipe or a cracked pipe. In order to be ready for these kinds of troubles, you need the best flooring for this critical area of your building.
Undeniably, the floor of a laundry room is a place where people stand on for long hours. So, a soft and warm surface is the best option for this corner of the house. This flooring must be comfortable to clean due to the situation of the place. You should wash and clean the floor several times, so some flooring options are not so good for your laundry room. Your laundry room flooring must be durable and last for several years. Finally, the cost is another essential factor to consider. Using expensive flooring for laundry rooms is not rational because they are exposed to many damaging things.
What are some excellent options for flooring the laundry room? 
Epoxy floor for the laundry room is a fantastic option due to its numerous advantages. It is a very safe choice for floors because it shows high resistance against slip, shock, and dampness. It protects the floor from moisture or even chemical substances. Rubber flooring for the laundry room is another fantastic option to consider. Rubber is a durable option for flooring, and various designs and colors are available for it.
If you are searching for a concrete flooring company in Prairieville, LA, we offer waterproof laundry room flooring. Both epoxy and rubber floorings are among our flooring services, and we offer them at unbeatable prices. Our team is experienced and educated, so, we can provide the best ideas for your laundry rooms. Clients' contentment is our top goal. Therefore, we strive to create a memorable experience for people who use our services. Our customer support is friendly and passionate about clarifying any issue for you. Contact us immediately to get what you need.
What is epoxy flooring?  
Epoxy flooring also has other names like polymer flooring or resinous flooring. This type of flooring is a combination of resin and hardener placed over wood, concrete, or other available options for flooring. The chemical reaction makes connectivity to the layer and creates a rigid plastic. This flooring cures quickly, making it perfect for commercial laundry room flooring. Epoxy flooring has attracted attention due to the various advantages that it offers. Poultry, distilleries, and dairy are some of the significant industries that use epoxy flooring. Some other benefits of epoxy flooring :
The appearance is shiny and attractive. It is a beautiful choice for places like hotel lobbies.

It is incredibly cost-effective compared to other types of flooring.

The maintenance of epoxy flooring is easy, and it lasts for an extended period.

It is a robust choice for places with heavy machinery. It is solid for sites exposed to high traffic or enormous temperature.

It is an environmentally-friendly option, and it won't cause pollution at all. It is not porous, so the cleaning process of this type of flooring is easy, and you don't need any chemical substances for the procedure.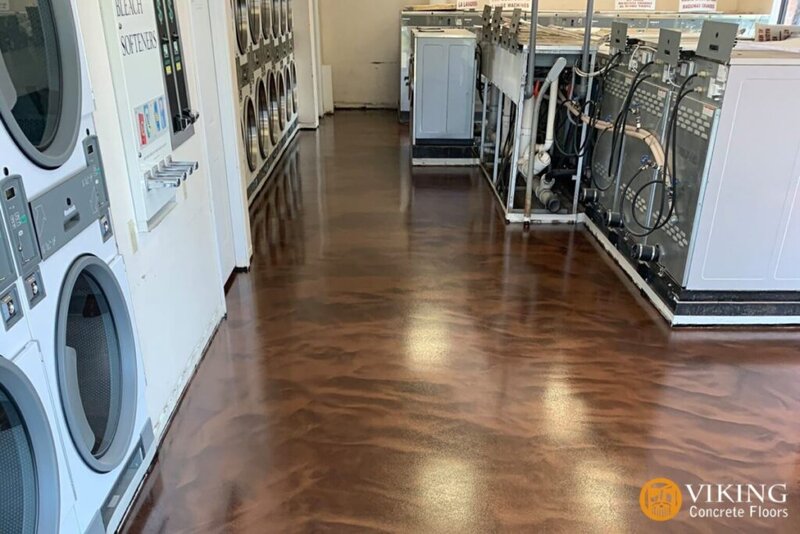 Rubber flooring and its benefits 
Rubber is a good choice for flooring the laundry room. Natural materials are in the structure of the rubber, so it is a long-lasting product with various colors and designs. This type of flooring offers multiple benefits. Some of the advantages are as below:
The original dimensions of rubber flooring won't change over time.

It is sound absorbent and brings about peace of mind.

It resists dampness or heavy impact, which is great for laundry rooms.

Scratches won't be available on it because it is resistant to them.

Chemical spills are common problems in laundry rooms, but rubber flooring is immune to them.

It is against mildew, stain, and things like them.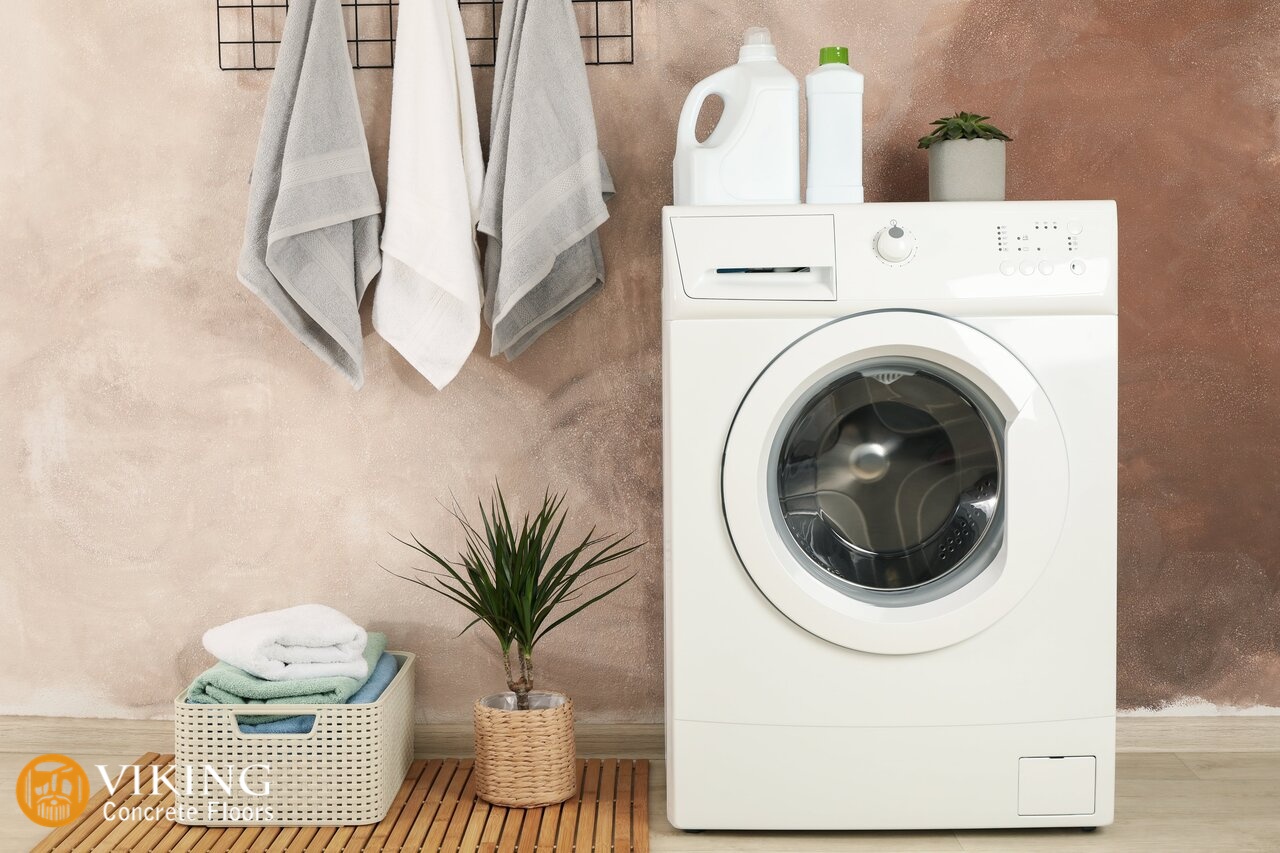 Why are some flooring options better for laundry rooms? 
There are various options for laundry room flooring, but not all are the best. As we mentioned earlier, epoxy and rubber flooring are among the best choices. The laundry room has more dampness compared to the other building corners. So, the flooring must meet the requirements of such a place. There will be many different stains in laundry rooms, so the flooring must resist against stains. If the flooring type is not against stains, you must live with the stains for a long time. 
Some final tips
The laundry rooms are susceptible to foot traffic and heavy machinery. There are many vibrations and movements in the space, so your flooring option must reflect all these critical points to meet the requirements. Furthermore, laundry rooms are one of the throughways of your building, and they must be equipped with some attractive features. You can't sacrifice the beauty of your house for the laundry room flooring. As we said, epoxy and rubber can meet the expectations mentioned above.
Concrete Flooring In & Near Prairieville, LA 
Are you bored with the terrible appearance of your laundry room flooring? Is it chipped or cracked? We are one of the best concrete floor company that can resolve these issues. The renovation of the old floors is one of the unique services that we offer. Our services are flexible, and you can choose them per your budget and requirements. We make your floors shiny and attractive; our history tells everything about us. Our high-quality products are in line with a variety of designs and colors. If you are a fastidious customer, our company is the best place for you, and our experts give the best guidelines. Our concrete floorings can bring freshness and new life to your houses. If you need customizing, multi-dimensional floorings for your laundry rooms, Viking Concrete Floors is the best. We are a one-stop station that has all your decorative needs. Our experts are ready to help, and our customer support is eager to clarify all the issues for esteemed customers. We are here to stay in the industry forever, so fill the form below or call us at 225-313-7950 to open a new horizon for yourself!
If this post was helpful to you, please leave us a 5star review. It would help us a lot. Thanks!
by John B.